A few months ago I had the pleasure of being introduced to Jesse and Ellen Hopper, by our favorite bartender, Ralph. While talking to Jesse, Ralph discovered he was a member of the 82nd Airborne (Korean War). So Ralph called me up and said, "I have someone I'm sure you'd like to talk to", and handed the phone to Jesse. Thus another friendship blossomed on a sunny winter's day here in Alger, MI.
After meeting the Hoppers a few times in person, I began to learn more about Jesse's experience with the 82nd, and their desire to start a local 82nd Chapter here in mid-northern Michigan. We also began to exchange email and Ellen shared a few of those exchanges with a very dear friend of theirs, Howard Huebner. "I hope you won't mind", she chimed. Well you know my answer to that! Thanks "Jellen". Many hugs, "Marilee" (our nicknames - ha-ha)!
Note: It is with deep regret that I inform you of his passing in February 2013. I am very sorry that I forgot to update his page with this information. I'm sure it was an unconscious act on my part, for I hate posting this kind of news, for once I do, it becomes permanent.

We are losing so many of our "boys" as of late, and I always dread hearing the news about someone who I held so dear in my heart. You shall be missed. My condolences to his wife Betty and his entire family and all his friends. It was an honor to know you.
A letter from Howard:
HI MARION:

ELLEN HOPPER SENT ME SOME E-MAILS ABOUT ALGER MICH. I REMEMBER ALGER WELL. WENT THROUGH THE TOWN HUNDREDS OF TIMES FROM THE MID 1930's UNTIL HWY. 75 WAS PUT IN.

I WAS SURPRISED TO SEE MY LETTER ON YOUR SITE THAT I SENT TO HER. AS YOU KNOW I AM AIRBORNE FROM HEAD TO TOE AND WILL ALWAYS BE. I HAVE BEEN BACK TO FRANCE FOUR TIMES SINCE THE WAR AND HOPE TO MAKE IT ONE MORE TIME IN 2009 FOR THE 65TH ANNIVERSARY OF D-DAY. I HAVE MANY FRIENDS OVER THERE. I HAVE LAID FLOWERS AT THE 101ST MONUMENT IN MAGNAVILLE, FRANCE SEVERAL TIMES. I LAID THEM IN 2004 FOR THE 60TH ANNIVERSARY. I WAS THE ONLY PARATROOPER THERE. THERE WERE NO 101ST PARATROOPERS. I DEDICATED A MONUMENT IN LA-BONNEVILLE ALSO FOR ALL AIRBORNE TROOPERS. THEY HAVE ME ON SEVERAL COMPUTER SITES IN FRANCE ALSO. I HAVE MET THE MAYOR OF MAGNAVILLE AND ATE WITH HIM. I CAN'T COUNT THE PEOPLE THAT WANT ME TO COME BACK TO SEE THEM EVERY YEAR. BUT YOU KNOW IT TAKES MONEY AND THE FLIGHT IS CLOSE TO 8 HOURS FROM NEW YORK TO PARIS AND THEN ANOTHER FOUR HOURS TO NORMANDY.

I WAS BORN AND RAISED IN SAGINAW MICH. I HAD A COTTAGE ON DOUGLAS LAKE OUTSIDE OF PELLSTON, MICH FOR 30 YEARS. ALSO A HUNTING COTTAGE OUTSIDE OF FAIRVIEW, MICH. MOVED TO FLORIDA IN 1995 FOR GOOD TO GET OUT OF THE SNOW AND COLD. BUT YOU KNOW I STILL HAVE SNOW YEAR AROUND ( IT'S IN MY HEAD ). BUT I DONT HAVE TO SHOVEL IT.

THANKS FOR THE EXPOSURE ON THE NETWORK COMPUTER.


HOWARD HUEBNER

Here is the letter that Ellen shared with me that is referred to by Howard. It was posted on my forum a few weeks ago:


Dear Mr Huebner

Thank you so much for taking the time to write me an email. You gave me your card when we said our goodbyes at the Amfreville memorial last year and I've been trying to get some photos out to you but for some reason my mails kept bouncing back. This is why I asked Tom Colones who recently mentioned on Mark Bando's Trigger Time forum that he knows you, if maybe he could put me in touch with you. But this lovely lady beat him to it. I've just sent her a big thanks for doing that.

I'm including some pictures of our meeting at La Fière and in Amfreville in this mail and will be sending you more in separate mails in the coming days. The resolution is too big to send them all in one mail.




and no doubt your favorite




One thing has been on my mind since I met you in June. If my memory serves me right, and I believe it does, you mentioned that you landed in POUPPEVILLE. In Mike De Trez' At The Point Of No Return, on page 11, the page with the DZs, there is indeed a red dot signifying an 82nd stick to the right of Pouppeville and dangerously close to the Channel. If this is indeed your stick, that puts you right near Exit 1 and somewhere in between drop zones C and D of the 101st.

Now, I know from Phil Nordyke's epic book on the history of your division, that you played a major role in the big battle that took place at La Fière and that ten days later you would again be engaged in a heavy battle at Vindefontaine, but my first question is: How did you go from Pouppeville to La Fière? How did you cross enemy territory where the 506th and 501st were engaged in heavy hedgerow fighting to fight at La Fière and did everybody in your stick make it that day?

Again, maybe I'm just seeing things that aren't there and you mentioned a different town and I completely misheard, but this has been bugging me for some time now.

If you don't mind, I'll be asking you some more questions over the next few weeks. I'm re-reading Phil Nordyke's book and have put in some question marks left and right.

In the meantime, any specific information regarding locations, events you would be willing to share about your personal Normandy campaign would be greatly appreciated. I'm going back to Normandy in June, and it would be great to "walk in your footsteps" so to speak. I know you feature in a DVD called D Day - Down to Earth - Return of the 507, but I doubt very much whether I'll be able to get my hands on a copy that I can play here in Belgium . Has to do with the Region numbers, I believe, but I'll keep looking.

I tried to send you my best wishes for X-mas and the New Year, but I'm afraid that mail bounced back as well, so I'll take this opportunity to wish you, your wife and all your loved ones all the best for 2007. You told me in Amfreville that your knee was still giving you some trouble, even after I believe 4 operations, but I hope you are still going strong and look forward to meeting you on another occasion.

I signed up for jump school in Oklahoma , but I'll tell you a bit more on that in my next mail.

Bye for now
Peter



STORIES OF HOWARD HUEBNER
82ND AIRBORNE DIVISION
507TH PARACHUTE INFANTRY REGIMENT
SERVICE FROM 1943 TO 1946
SER# 36569543
Written by Howard Huebner - 2005
Marion's note: I have done some slight editing to preserve the flow of the story.


The 507th Parachute Infantry Regiment was attached to the 82nd Airborne Division when we went into Normandy on D-Day June 6 1944. After D-Day the 507th was assigned to the 17th Airborne Division. When the war ended in May 1945, the 507th Parachute Infantry Regiment and the 17th Airborne Division were sent to The States and deactivated. I was sent to the 82nd Airborne Division and placed in the 505th Parachute Infantry Regiment as a supply Sgt. and sent to Berlin, Germany for occupation duty until December of 1946 and sent to The States to be discharged at Camp Atterbury, Indiana.
1 Combat Jump
4 battle stars
Awarded the Bronze Star


Intro
I, Howard R. Huebner, was born in Saginaw Michigan May 19 1923. My mother was Martha Raese, and my father was Charles C. Huebner.
I was born in Saginaw Michigan, and attended St. Paul's Lutheran School for eight years and was confirmed in 1938. I attended South Intermediate School for one year while in the ninth grade, then went on to Arthur Hill High School for three years and graduated in June of 1941.
I went to work for the Ready Mix Concrete Company in Saginaw for the sum of 35 cents an hour doing concrete work setting forms, pouring and finishing concrete. I then joined the Brick Layers —Plasters—and Cement Masons International Union #7, as an apprentice in Saginaw.
I lived at home with my parents and paid room and board of $5.00 a week. My buddies got to me one day and kept after me because I wasn't making any money (at 35 cents an hour). They worked for General Motors Car Co. and made $1.00 an hour. So I quit my apprentice job and got a job with Graver Tank Co. out of Peoria Ill. They were doing work for Dow Chemical Co. in Midland Michigan. I went to apply for a job, and they told me that Ludington, Michigan would have a job for me. That was about 150 miles from Saginaw. They were doing a government job, putting up large storage tanks of steel. This job was right on Lake Michigan.

I brought a car, a 1935 Cadillac convertible with a rumble seat white wall tires, red leather interior, doors opened to the front, wheel wells on the fenders, white wall tires with spoke wheels, a radio and heater and a spotlight. It was a sporty car (I wished I had it today). I think I paid $250 for it back then.
I drove up to Ludington and found a place to stay in a private home, my room and board was $12 a week, with a lunch pail packed in the morning for my noon meal. The people that I stayed with were retired school teachers. My pay was $1.25 an hour, a little more than my buddies where making. No more complaints on what I was making an hour from then on.
After four months away from home I came back to Saginaw. I called the union office and they told me to go up to Bay City, Michigan and to work for Owen Ames and Kimbel, which was about twenty-five miles from home. There I worked on a big power plant for Consumers Power, and my job was rolling tubes in huge boilers suspended in air about 200 feet. I made $1.50 an hour.
I sold my convertible to a friend and bought a 1939 Pontiac Chieftain, four-door for $450. We had gas rationing and I could get all the gas I wanted because I working on a government job, and I pooled with other workers from Saginaw.
But one day in January of 1943 I got a card in the mail from Uncle Sam, saying I need you! So off I went to Detroit, Michigan for a physical and passes. In a few days after passing I was notified when to catch the train from Saginaw to be inducted into the United States Army. We were there a few days and told about the army and given army clothes, and then we had to send our civilian clothing home.
We all made our way to different army training camps in the United States. I was send to Camp Wheeler, Georgia for army basic training. After eight weeks of training I volunteered for the paratroopers and sent to Fort Benning, Georgia for four weeks of training, and after five jumps from an airplane was sent to Alliance, Nebraska.




Training
I, Howard Huebner, Ser# 36569543, of Malzahn St. Saginaw, Michigan, was introduced into the United States Army at Camp Custer, Michigan, in February of 1943 at the age of 19 years old.
We were issued our clothes and I was sent to Camp Wheeler, Georgia from army basic training. After eight weeks of training they asked us if anyone wanted to join the paratroopers. Well there was the jump suit, boots, extra money and the rest. I joined! When I wrote home to my mother and dad, they thought I was nuts and so did all the people my mother talked to. I got lots of letters from the neighbors telling me not to be a paratrooper. Well I told them, someone had to do it.
After strenuous training of callisthenics eight hours a day, you ran from one place to the other, from time to time for play. We climbed ropes 30 ft. high. We jumped out of mock towers into saw dust piles as simulated jumps. We twirled Indian pins about 1 ½ lbs., until your arms almost dropped off. When you slowed down, the Sgt. who was in command over all no matter if you were a colonel or anyone else, would say give me the GI laugh. A lot of nice words were said under our breath to him. Then the Sgt. stood on a platform about four feet high, so they could see us. I think we were in groups of about thirty fellows. Four weeks of training if you passed along with five jumps, and then I was send to Alliance, Nebraska to the 507th.
I believe it was in June when I hooked up with the 507th. I was assigned to C. Company and after training on the rifle range I was made machine gunner. While on the rifle range, I shot the M1 Rifle from fifty yards to one thousand yards, I shot a ninety-eight out of a possible one-hundred bulls eyes and another fellow shot ninety-nine. We both got three day passes to Denver, Colorado for our achievement.
We made a few jumps for the bond drivers while there. We also spent two weeks in the Black Hills, training like mountain climbers. When we got back to Alliance we all received a two week furlough. We were all glad to get home when we got back to Alliance after our furlough. We prepared to leave and we all knew where we were going over there. We went by train to Camp Shanks, New York, and were there for several days. We all went into New York City. What a town.
We set sail and landed in Ireland where most of the paratroopers went first. We trained a lot for cliff climbing along the coast, and a lot of hiking to keep us in shape and double trimming.
When we left Ireland we went to Nottingham, England, to an old castle, Barton Stacey (it's still there today, I visited in 2005).


D-Day June 6, 1944
This photo was taken on Utah Beach, June of 1944. These are German prisoners captured by the 506th, 101st Airborne Division. I Howard, Huebner, landed in the area and fought with them. I am standing at the head of the prisoners.


I am a Paratrooper! I was 21 yrs old when we jumped into Normandy.
We knew the area where we were supposed to land, because we had studied it on sand tables, and then had to draw it on paper by memory, but that all faded as our regiment was the last to jump, and things had changed on the ground. Most of us missed our drop zone by miles. As we were over our drop zone there was a downed burning plane. Later I found out it was one of ours. The flack was hitting our plane and everything from the ground coming our way looked like the Fourth of July.
When I hit the ground in Normandy, I looked at my watch. It was 2:32 AM, June 6, 1944. I cut myself out of my chute, and the first thing I heard was shooting and some Germans hollering in German, "mucksnell toot sweet Americanos".

Marion's note: Basically telling the Americans to "get a move on it". Hubba-hubba!
We the 507th, was supposed to land fifteen miles inland, but I landed three or four miles from Utah Beach by the little town of Pouppeville. I wound up about 1000 yards from a French farm house that the Germans were using for a barracks, and about 200 feet from a river, an area that the Germans had flooded. If I would have landed in the water, I may not be here today as I can't swim. A lot of paratroopers drowned because of the flooded area.
I crawled to the edge of the flooded area along side of a tree to get my bearings. I knew I was in the wrong area a long way from our drop zone. About a half hour later someone came toward me from the direction I had landed in. By the morning light I could see his helmet and knew he was an American.
When daylight came, we came upon some 101st, 506th paratroopers. We had secured the area and the little town of Pouppeville. An American tank came up the road from the beach invasion area about noon and all was well. We gathered the wounded and dead and had about seventy-five to one-hundred prisoners, and marched down the the same road. It seemed like two to three miles to the beach.
We gave our German friends a front row seat right on the beach in a barbed wire enclosed we dug up for them, as there was a lot of that laying around. It was something to look over the water and see all the ships. It looked like a bunch of corks in the water. The equipment that had already been put ashore was awesome.
One German complained because we were being shelled by their own men. I told him you S.O.B., you started it and now your going to get your belly full of it. He was a German officer. I asked him where he learned English. He said he went to college in New York.
I remember a truck coming up on the beach loaded with ammunition and a German 88 shell hit it. It was the loudest noise I have ever heard. I stayed on the beach that night and left the next morning to find my unit. It was one or two days later that I found some of C Co. They were getting ready to go across the La Fiere Causeway June 9th, 1944.
We relieved the 505th Para. Inf. there, and General Gavin gave my company commander, Bob Rae, orders to take the causeway.
We took the causeway on June 9, 1944, along with the 325th glider troops. They began that battle and we finished it, but it took a lot of lives. Around 500 fellows died there for about a quarter to half mile stretch of road which was flooded on both sides, as was much of Normandy. It took the Germans four years to flood, and six months to drain.
The 507th's last battle in Normandy was at Vindefontaine, it was a morning attack on the village. We cleared the Germans out and then waited to be relieved and sent back to England after thirty-three days of fighting without any replacements.
The 507th went in with about 2000 men and came out with about 800. My company, C Co. left with about 75 out of 230 men. We the 507th had the worst drop of all paratroopers on D-Day. Why? I guess because we were the last ones and the fellows before us had stirred up the bees (the Germans).
A List of the men in the stick of the C-47 cargo plane - PDF file
D-Day Drop Zone - PDF Map of area





More on Normandy, June 1944
One day long ago in 1944 in Normandy, France, we the 507th C Co. Parachute Infantry Regiment were moving up to the front line to relieve some soldiers for the evening, it was getting dusk.
While moving toward the front line I remember going up a lane lined with German black bicycles. The Germans used these to get to the front lines and transportation.
We came to a road and went down the road a ways and then followed a hedgerow into a field. I was the last fellow in the column and Sgt. Brothers was ahead of me. As we walked along I heard some noise behind me. When I turned it was a German soldier with both hands above his head, as well as his gun. I turned and told Brothers, ''Look who is behind me''. He said shoot so and so, I said no and took his gun, emptied it and threw it in the brush and frisked him. Later I had to take him back to the battalion H.Q. By then it was dark. What ever happened to him, I don't know.
When I got back to the road, a motorcycle went by me. I heard some shots and then he came back again and passed me. I heard more shots and then nothing. They must have got him. I couldn't tell who or what it was other then it sounded like a motorcycle.
When I got back to the company, a Lieutenant came over to me and told me to go to B Co. area and take over the machine gun on the front, which was set up in a German foxhole. An American was hit in the face by a piece of shrapnel and his face was wide open from skull to neck. In the other corner was a dead German. I stood watch that night guarding our live and dead troops, American and German.

That American was a friend of mine named Ron Bonell, who had went home to Michigan with me on furlough in October of 1943. We lived about ten miles apart in Michigan; he in Hemlock and me in Saginaw. We had to leave for camp on October 15th, the opening of pheasant season, but WE opened it on the 14th, got our limit and went into Hemlock, about three miles away and got some gas. The owner asked us if the war started. I said why, and he said it sounded like it. I said we just had opened bird season early because we had to go back to camp in the morning. Gas was rationed at the time, but he filled my tank and said thanks for everything you fellows are doing for us, we owe you a lot more.


Marion's note: You can read more about Ron further down in the section called, A Fellow Soldier I Will Never Forget


A Lucky Break!

While moving up to the La Fiere Causeway, we passed by an orchard and took a break along a hedgerow. I was sitting on the side of the row, which made a good seat or so I thought. I heard nothing and saw nothing, but I sure got stung on the rear. Whether by accident or choice, a stray bullet tore up my pants and went under my butt and out the other side. The fellow that was sitting about eight feet from me heard it go past him. I jumped up and dropped my pants, no blood, just a pair of shot up pants.

I often wondered what would of happened if that bullet would of hit me in the hip, but I guess the Good Lord was with me that day as He has been since, and I hope He always will be.




The La Fiere Causeway

The La Fiere Causeway in Normandy where the Parachute Drop took place on June 6, 1944.
This is a historical site on the Merderet River, that features the monument called Iron Mike. It honors the 505th Parachute Infantry Regiment for defending the causeway and keeping the Germans from coming across for two days. There is a lot to be said about the causeway. There is a movie about it called, D-Day Down to Earth - Return of the 507th.
Yes the 505th was there, but the story goes on. The big push to control the causeway and take and keep it open for the Americans to cross, came because of the 507th Parachute Infantry Regiment. The 505th was pulled back and the 507th took over. The night before the attack June 8, 1944, about eight of us from the 507th waded across the swamp, as it was called by the French people. We went up into German territory to see what armament they had. We could hear the Germans talking on one side of the hedge row and we were on the other. We were only there to survey what they had.
The next morning our company commander Captain Robert Rea, got orders from General Gavin the 82nd Airborne commander, to take the bridge and causeway. The 505th had knocked out two tanks on the causeway. We had a little cover for a few feet and then nothing but sure luck and the good Lord with us, but we made it across. It was running and firing. You see your buddies lying there and you can't help them, but we were trained to kill or be killed and that's what took us across the causeway; guts and determination.
The movie D-Day Down to Earth, returning of the 507th tells it all. The fellows in the movie WERE there and interviewed by professionals that made the movie. Several have died since the movie was released two years ago. They are Lou Horn, Carson Smith and Robert Rea.
I am in the movie and it's the the first time I have said anything about the La Fiere Causeway, as it brings back some bad memories and horrible sights. It cost about 500 lives to take a half mile of road. A very high price to pay.
It was one of four roads from Utah Beach to high ground to bring in supplies and troops. It was a major road to take. We, the paratroopers of the 101st and 82nd Divisions, did not have any replacements for the thirty-three days we fought in Normandy. And the food we ate, we had to find or get from the French people. We learned to live off the land.




A Fellow Soldier I Will Never Forget
In the United States Army as a paratrooper stationed in Alliance, Nebraska with the 507th Parachute Infantry Regiment, I spent two weeks in the Black Hills of South Dakota near Deadwood. When we returned to camp we were all given a two week furlough in October of 1943.
I lived Saginaw Michigan. I took the train from Nebraska to Detroit, Michigan. While I was waiting for a bus to Saginaw, I met another paratrooper, Reinold Bonnell from Hemlock, Michigan.
We traveled home together and had some good times on our leave. Unfortunately we had to return the 15th of October, which is opening day of pheasant season in Michigan. Well, Ron and I opened the season on the 14th. We only took two birds apiece, the limit.
When we got back to camp Alliance, Nebraska, we were told to pack our gear and get ready to move out. It took several weeks then we headed for New York. I managed to see New York from the Empire State Building. We had to take the ferry across the Hudson River. One of our buddies lived in the Bronx where we spent time.
While going across the Atlantic, my friend Ron or Red as we called him, told me his girlfriend gave him a wrist watch and that if he got killed and I found him, I should take it, and if I lived to send it back to her. We landed in Ireland and we were stationed at Port Rush, Ireland. We spent Christmas there. I cut a branch off a tree and hung tin foil from cigarette packages on it and tin cans, you name it. It didn't look too bad, but it was Christmas.
When we left Ireland, we went to Nottingham, England, where we trained and stayed until D-Day June 6, 1944. It was a day we all looked forward to for we knew we were there for a reason, and that is what we trained for. We both made the jump but I didn't see Ron until the 15th day of June, a day I will never forget.
We were moving up to take the front over from another company. I was the last fellow in the squad and company. I heard a noise behind me and turned around and saw a German soldier with his hands and arms up. I took the gun, emptied it and threw it in the hedgerow which is full of brush. I then had to take the German prisoner back to battalion headquarters.
When I got back to the company, they told me to go over to B Company and take over the machine gun. I said Ron is their machine gunner, why can't he? ( I was machine gunner also) I was from Co C going into Co B.
When I got there, there set the machine gun outside of this German dug foxhole, approximately eight foot long and four foot deep. Ron was in one corner, a piece of shrapnel had hit him in the face and tore it open from skull to his throat. I tried to take the watch off but I couldn't. I crossed his arms and said God bless you. In the other corner was a dead German soldier.
That night I will never forget as I stayed there guarding the front line and the live Americans as they slept, and dead Americans and Germans.


Whey Did I Do This?
Why did I do this? Only for the love of my country, my buddies and friends of the 507th Parachute Infantry Regiment in WW2.
After we returned from Normandy in July of 1944, I was made corporal and we had to take care of business of sending personal things home of the fellows that were killed, and send personal things to the fellows that were in the hospitals, and take care of our equipment.
We were then sent to the English middle lands and over England, west of London to Barton Stacey and Tidworth. There we were placed into the 17th Airborne Division, which had just come over to England. We trained there and made a practice jump. It was a gusty, windy day and I thought I was going to make a good landing when a gust of wind caught me and threw me up and my chute hit the ground. Four moths later I left the hospital after three bones healed in my right leg.
The 507th Parachute Regiment had been through Battle of the Bulge and stationed at Calon, France. How I got to France I don't know and don't even have a clue, but I caught up with them at Chalon Sur Marne, as they were getting ready to jump across the Rhine River into Germany. I was ready to go and the company commander told me I couldn't go, as I had just come back from the hospital. He told me what to do with the mail and other things as I was (going) to be the acting company commander. Well, that's what he thought. I asked our company jeep driver when the motor pool was going to leave. I told him when they get ready, let me know as wanted to go along with them. He said only one fellow to a vehicle. I said I will be by the woods with my gear when you come out and I was waiting. I told another fellow who had come back from the hospital, to do what I was told to do by our company commander.

As the story goes we were down the road about fifty miles or so, we stopped to take a break. When the motor pool officer saw me he flipped and wanted to catch up and I wasn't about to walk back so he said OK. The next morning when we woke up, the sky was full of C47 cargo planes and gliders heading for Germany. We crossed the Rhine River on a ponton bridge that our engineers had built.
The next day the jeep and I caught up with our company. Well, when the company commander saw me he couldn't believe it. He said: ''Huebner, you so and so, you're going to get a General Court Marshall''. I spouted back and said do you have to do, I trained with these fellows, I fought with these fellows and I will die with these fellows. That was that and we went on doing what we were trained to do, fight for our country.
The war ended on May 9, 1945, and we were in Essen, Germany. I was sent to the 505th Parachute Infantry, 82nd Airborne Division, and on to Berlin for occupation duty. I was made Special Staff Sergeant without pay. I had to wear the stripes.
The 507th and 17th were sent home and deactivated.

I served in the army paratroops from 1943 to 1946, and then honorably discharged.
On my way home
After The War
Howard in 1946 in Saginaw, Michigan, after being discharged from the army.


The 507th Parachute Regiment and the 17th Airborne Division were sent back home to the United States. I, Howard Huebner was sent to the 505th Parachute Regiment of the 82nd Airborne Division and then onto Berlin, Germany for occupation duty. I was made acting Staff Sergeant (supply sergeant) in the Quartermaster Department.
I was discharged in January of 1946 and went home to Saginaw, Michigan. I was in the used car business for five years and then went onto the Saginaw Police Department for twelve and a half years, and then went into the Saginaw Public School system as head carpenter for forty-two schools. I retired in 1988 after twelve years with the school system.
My wife and I have traveled and have been in all but one province in Canada and all but one state in the United States. I have not been in Oregon as yet. We have traveled to France three times and Belgium, Holland and England.
My wife Betty and I have two children, Pamela and Roger and four grandchildren, and we all live in Florida. We moved to Florida in 1995, and stayed for good because our family is here. We had a nice home in Saginaw and a cottage in Michigan, about 189 miles from our home. The cottage was on a lake and in a pretty setting with clean, clear water. We miss it but as life goes you have to give things up sometimes that you love dearly. And with me my family comes first.

So after all that I have done in life and seen, one thing that I have enjoyed the most is being with friends during the war. The soldier buddies and the people that I have met in Normandy, France. All I can say is that they are so gracious to the soldiers that were there during the liberation of their country. And I can say I was one of the fellows and darned proud to have been part of it.

Please tell the people in La Bonneville that they will never be forgotten by one American man and lady, Howard and Betty Huebner, and the good Lord be with them always. I am so proud of what I have done for them.


507th P.I.R. News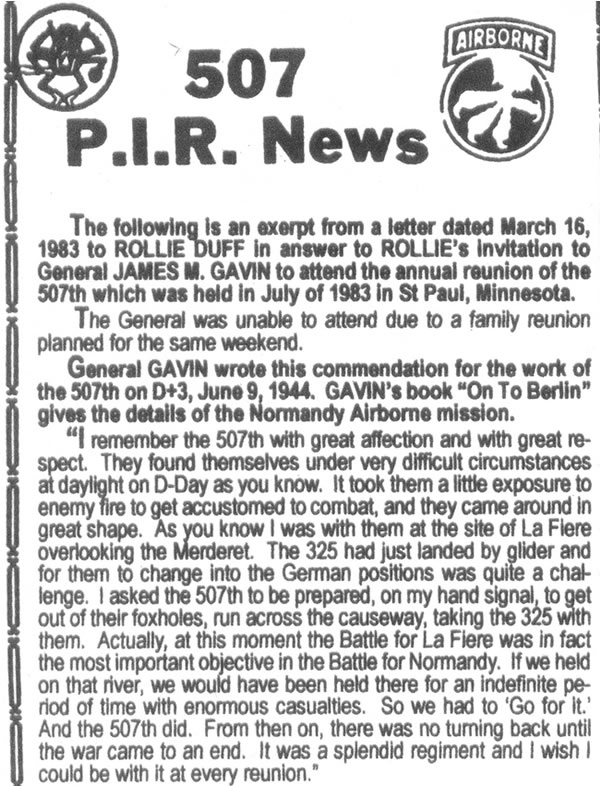 Reunion


Returning
507th Monument

Howard and Betty Huebner shaking hands with Under Secretary of the US Army, Lee Brownlee, at La Fiere Causeway in Normandy, France, in June 2004.
The 101st Monument at Magnaville, France, where I layed a wreath to honor them
French Newspaper Article December 16, 2004 - PDF file

The following was sent to Howard by a fellow that was also in France in June of 2004 for the 60th Anniversary of D-Day. The gentleman's father was a paratrooper.
That evening we returned to St. Mere Eglise for dinner with many WWII paratroopers and glidermen. Hanging from the steeple tower of the XIII century church, the replica of a 82nd Airborne Paratrooper named John Steele (F/505th), who on D-Day found himself dangling precariously above the brutal carnage and death below. Inside the ancient cathedral, are the magnificent stained-glass windows portraying Mary and the Christ-child, protected by American airborne paratroopers.

During the festive evening dinner in St. Mere Eglise, we sat with a Howard Huebner, my son's adopted grandfather for the evening, and his lovely wife Betty. Howard fought with C-Company, 3rd Battalion of the 507th PIR, which was attached to the 82nd Airborne for the Normandy campaign. Huebner was one of the brave men who made the epic charge across the La Fiere causeway. In a recent letter Howard reminisced:

The 507th was stationed in Nottingham, England. During the days leading up to D-Day, we would study the intricate sand tables that depicted the Normandy countryside. All the roads, fields, rivers, farmhouses, and villages were accurately displayed, as well as the landing beaches. At night, we slept in the base's large hangers. To stay busy, we played cards and had baseball and football games. Our morale was high and for most of us, we just wanted to get started on our mission to defeat the Germans and win the war in Europe."

"While during the flight over the Channel for the invasion of Normandy, we talked, joked, laughed, and sang paratrooper songs. (A Hell of A Way to Die!) Once over the coastline of France, the seriousness and the fireworks began. We could hear the near misses and shrapnel hitting our plane; it was like a hailstorm! When we went over the drop-zone, I could see a plane burning on the ground and we were quite low. Our jumpmaster hollered to the pilot, "get this son-of-a-bitch up" so we could safely make our jump. When the green light came on, we were out the door in a matter of seconds! We must have jumped at about four hundred feet. My chute opened and I quickly hit the ground, cutting my chin open during the process. I landed in an open-field near a farmhouse that the Germans were using as a barracks. As I quickly cut myself out of my chute, I could hear the Germans hollering, "Muck-schnell toot sweet Americans!" as they started up their motorcycles and headed away from us toward the little town of Pouppeville. I landed about 200-feet from a flooded field and if I had landed in the water, I would have drowned because I can't swim!"

"Before daylight came we ran into a group of 506th and 501st paratroopers. Together we secured the little town of Pouppeville and took many German prisoners. At around noon, an American tank had come up from Utah Beach. We then marched the German prisoners off to Utah Beach, as we picked up our wounded and dead along the way."

"We gave our friends the best seat in the house, right on the beach, enclosed in their own barbwire fencing. It was something to look out and see all the equipment coming ashore and the vast number of ships in the water. One German complained about being on the beach as the Germans were still shelling us at the time. He said to me, "We may be killed! " and so I said to him, "You so and so started this years ago and now you're going to get a be bellyful of it!" He was a German officer and I asked him where he learned his English. The German officer replied that he had attended college in New York! I can remember a truck coming up on the beach that was loaded with ammunition. A German 88 shell hit it, resulting in the loudest explosion I ever heard in my life! I stayed on Utah Beach that night and the next morning found and rejoined my unit, C-Company, 507th PIR as we headed for the La Fiere bridge and causeway."

"The 505th PIR defended the bridge and causeway for two long and costly days. The big push to take and keep it open for the Americans to cross came as a result of the 325th GIR and the 507th PIR.. Thus the 505th was pulled back and the 325th and the 507th took over. The night before the attack on June 8th , about six of us from the 507th waded across the "swamp" as the French people called it. The fields were completely flooded by the Germans right up to the causeway. The water came up to the level of our chins and at times and I thought we were all going to drown. We finally made it up into German territory only to see what armament they had. We could hear the Germans talking on one side of the hedgerow while we were on the other."

"The next morning our company commander Captain Robert Rae received orders from General Gavin the 82nd Airborne Commander, to take the bridge and causeway, after the 325th had suffered horrendous casualties in making the attempt. We had some cover for a few feet, a few knocked-out tanks, and then nothing at all but sure luck and the good Lord with us. It was running, yelling, and firing all the way! When you see your buddies lying there and you can't help them, you just had to push forward! We were trained to kill or be killed and that's what took us across the causeway, our training, guts, and determination! The La Fiere bridge and causeway cost about five hundred American casualties. When I think about the fight at La Fiere, it brings back some bad memories and horrible visions. The cost was terribly high."

During one of the ceremonies that we attended with Mr. Huebner, a kind and grateful citizen of Normandy presented Howard with an American M-3 trench knife. During World War II, as a young Norman boy, he found the lost Airborne knife on a field near his home. Howard was very moved by this gracious gift.

Howard Huebner is also featured in the outstanding movie documentary and touching tribute, D-DAY: Down to Earth - Return of the 507th.




Links of Interest
History of the 507th PIR

507th Parachute Infantry Unit - United States
Chef du Pont - by Roy Creek 507th PIR
507th Role of Honor - Normandy
Monument at La Bonneville, France
An Interview with "Wild Bill" William J Guarnere
Utah Beach - U.S.Troops Plan of Assault - Top Secret - Bigot
D-Day 60 Years After - photos of Pouppeville and more
A Great Experience - the story behind the creation of the video, D-Day: Down to Earth
82nd Airborne - The Canopy Newsletter - March 2007 - features Howard (thanks Jesse and Ellen)

10-07-07
11-05-07
Howard informed me today. Can't wait to see it!


"SEVERAL WEEKS AGO BETTY AND I WENT TO NEW ORLEANS FOR AN INTERVIEW FOR A MOVIE OF THE 507 P.I.R. AND THE LA FIERE CAUSWAY WHERE WE HAD A BIG BATTLE IN WW11. IT SHOULD BE OUT IN 2008 SOMETIME AND THEY HAVE NO TITLE FOR IT AS YET. THEY WILL KEEP ME POSTED SO THEY SAY. IT WILL BE ON NATIONAL T.V."
06-09-09

This is going to be long, but it is personal, and I hope you all read it all the way.

Howard Huebner, who jumped into Normandy on D-Day and I, (who was a part of the 517th that jumped into Southern France on Aug 15, 1944), along with 118 other WWII veterans were treated to a flight to Washington DC this past Saturday. And, what a day it was. Our flight was sponsored by Volusia Honor Air, composed of three different Rotary Clubs in DeLand, FL, along with loads of sponsors, 'guardians' and friends.

Since the flight was early, I picked Howard up in Leesburg and we drove to Daytona Beach where we spent the night. We were to start our journey at the DB Airport at 4:15 AM with breakfast. Arriving there on time, with a free parking pass, we had coffee and met others in our group, until our 'guardian' found his group ()no more than 3 veterans), picked up our name tags and boarding passes.

We then went thru the normal security gates into a lobby where we had breakfast served by even more volunteers, along with lots of people grasping our hands and saying 'thanks for your service', giving hugs, etc. It was overwhelming. Then when were ready to go, we passed thru an Honor Guard that saluted us as we passed onto the plane.

As the plane was taxiing out to the runway, a number of fire trucks were spraying water in an arc for our plane to pass under.

When we arrived in DC, more fire trucks were giving us a watery welcome, and all the ground crews were waving their hands and flags in welcome. WOW!! But as we left the plane into the runway, it was all decorated with red, white and blue flags, strips wrapped around the hand rails, etc, and when we reached the end, we were met by Suzanne Kosmas, Congresswoman from the 14th District, who gave each of us a hug and an American Flag.....passing on into the lobby, we were met by several hundred people, calling us by name, shaking our hands, hugging us, thanking us for our service and wishing us a good day...who were these people....I don't know, but they were young, old, black, white, brown, male, female, the works.

Before I tear up here, I have to tell you that in all my years of service, and all my returns home, I have never been in a parade, nor has any group given me a welcome such as this! I was in combat in three different wars, but t his was the first really organized effort I had encountered to say 'thank you for your service'.

We had a full day scheduled, starting with Arlington Cemetery, and the Changing of the Guard at the Tomb of the Unknown Soldier. Back on the busses, the 'guardians' giving their roll call that all their group was on board, then to the WWII Memorial. We strolled around, taking photos, and I came across one thing that really made this a memorial to WWII....in a narrow opening that went down to some of the machinery, there was the familiar hands, nose and face of "KILROY WAS HERE" scratched into the granite!!!! I took a photo of it, and I will pass it on to you as soon as I learn to down load all my photos and select a few.

I have failed to mention that our flight was one of seven...that's right, seven...Honor Air flights that day. I met veterans from Yountville, CA, the Dakotas, Michigan, Louisiana, and where the others come from I don't know. But we all had distinctive shirts and caps so we wouldn't get mixed up!!!

From there we went to the Library of Congress where we had lunch, a nice speech and prayer from a Chaplain from Walt er Reed Hospital, Rep. Kosmas and the Director of the Library.

Next we headed out to the Capitol where we had a group photo taken with Rep. Kosmas, then back on the busses to see the Korean War Monument and the Vietnam Wall. As the paths branch off, one going to the Korean area and the other to the Wall, a Guide as giving a lecture on the two, with several hundred people in attendance. Also at this intersection, was a big flag pole, the base with seperate sections for each of the five armed services. I noticed a buck sergeant on his knees polishing these plates...he had already applied Brasso, and was now polishing the plates. I asked him if this was 'extra duty' or a volunteer effort....this being Saturday, it had to be one or the other. His response was that it was voluntary, so I asked if he had an extra cloth, and down on my knees (that was a task!) I went, and polished one of the plates. For some reason or other I got the Marines. Before I finished, another young man dropped to his knees and helped out. After I had finished my section, that's all my knees could take, so I stood up and went to the Wall, having already gone to the Korea area. By the time I returned, yet another young man was helping, and the plates were shining like new. I asked the Sergeant if he was stationed here, but turned out (he was a paratrooper) is stationed at Ft Bragg, but here on temporary duty. I thanked him for his efforts in keeping our Memorials in shape.

Back on the busses, we next went to see the Marines statuary of the Marines raising the flag on Mount Hiribashi, then to the airport ready to go home.

Arriving back in Daytona Beach, I waited on Howard, who needs the assistance of a walker to get around, so we were the last to get to the lobby....there was such a gap, I think our 'guardians' thought we were lost....but, even so, the Honor Guard was still in place, gave us a full military salute, and, again, there were hundreds of people there to welcome us back, calling us by name, shaking hands and giving hugs. One young Boy Scout, in full uniform, gave me his three fingered salute, which I returned and then shook his hand, and it took us at least 15 minutes to get out of the terminal...everyone wanted just to touch us, wish us well and thank us.

I'm not an emotional person...as my children will tell you....but, this was was of the most emotional days of my life and I will never forget it. I can't thank all the poeple who put this together...it was phenominal, the time, effort and skills required to put this all together.

Now, if you are a WWII veteran, or know someone who is, have them get on line to 'HonorAir' or contact a local Rotary Club for more information on how to get on this flight. WWII vets are dying at the rate of over 1,000 a DAY, so there are not many days left for them to see this. Everything was in place, doctors, nurses, wheel chairs, cold water....you name it, it was available. If it had rained we would all have been provided ponchos, but the weather was beautiful.

My hat is off to the Rotary Clubs and all their sponsors and friends who made this possible.

Thank you for taking the time to read this....phil mc spadden
06-28-09
D-Day veteran returning to France -- even if trip kills him

Sorry the above link connecting to the story on the Chicago Tribunes' site, appears to have disappeared. Will try and get a copy of the story... However, have a new link regarding the trip to Normandy, featured here in a blog.
Travel Log - Meet Our Veterans - My Trip to Normandy

Here's a quote (regarding Howard) from President Obama's speech regarding D-Day.
"I know this trip doesn't get any easier as the years pass, but for those of you who make it, there's nothing that could keep you away. One such veteran, a man named Jim Norene [Nor EEN], was a member of the 502nd Parachute Infantry Regiment of the 101st Airborne. Last night, after visiting this cemetery for one last time, he passed away in his sleep. Jim was gravely ill when he left his home, and he knew that he might not return. But just as he did sixty-five years ago, he came anyway. May he now rest in peace with the boys he once bled with, and may his family always find solace in the heroism he showed here.
In the end, Jim Norene came back to Normandy for the same reason we all come back. He came for the reason articulated by Howard Huebner [HUBE ner], another former paratrooper who's here with us today. When asked why he made the trip, Howard said, "It's important that we tell our stories. It doesn't have to be something big...just a little story about what happened - so people don't forget."
So people don't forget."
-----------------------
I RECEIVED THIS MEDAL THIS YEAR 2009 IN ST. MERE EGLESE FRANCE FROM A FRENCH OFFICER. I AND FOUR OTHER FELLOWS RECEIVED IT. THREE MORE WERE AWARDED ONE TO A SOLDIER OF CANADA--GREAT BRITIAN AND THE UNITED STATES AT THE COLERSVILLE CERMONIES AT THE AMERICAN CEMETARY BY THE FRENCH PRESIDENT.

THIS IS THE HIGHEST OF MEDALS GIVEN TO A NON CITIZEN OF FRANCE.

HOWARD HUEBNER
PICTURE TAKEN IN ST. MERE EGLESE AFTER I RECEIVED THE MEDAL OF HONOR. AT THE TOP OF MY HEAD IS THE CHURCH .



OrlandoSentinel.com
Leesburg vet paying respects in normandy
June 6, 2009
Sixty-five years ago today, Howard Huebner of Leesburg parachuted into a French field on D-Day.
Today, the 86-year-old Army veteran will be back in France and will relive his World War II experiences during ceremonies marking the pivotal invasion.
President Barack Obama is expected to be at the ceremony at Normandy American Cemetery and Memorial in Colleville-sur-Mer (above). Huebner (right), who traveled across the Atlantic with his wife, daughter and teenage grandson, plans to join fellow veterans and paratroopers at the ceremony.
Huebner's son, Roger Huebner of DeLand, said Thursday that he heard from his father this week.
"He was doing great," Roger Huebner said. "He's really enjoying himself."
The elder Huebner had already visited the Netherlands and Belgium and this week planned to stay in northern France.
"It's really quite a experience for him," Roger Huebner said.
The visit marks Huebner's fifth trip to France since the war ended.
In a story last month in the Orlando Sentinel, Huebner recalled how numerous Allied soldiers were shot as they landed: "Some of them got caught up in the trees, and the Germans shot at them. 'Pow, pow, pow.' Like that."
Recent research by the U.S. National D-Day Memorial Foundation placed the number of American D-Day fatalities at 2,499 and those from other Allied nations at 1,915.
Sentinel staff report
Copyright © 2009, Orlando Sentinel

07-09-09
The following were taken from the EUCOM site. To see more great photos from 2009, please visit their link.
11-08-09
Atta boy!
01-13-2011


Lake Front TV - 30 minute video interview - conducted fall 2010 - Windows media file
02-07-2011
The following was sent to me by Howard and presented to him by Conny & Geert. Nicely done!