WWII Shops and Services - updated Feb 2018
Online Shops and Services
King Tiger Books - based in the U.K.
M-1 Helmet

M-1 Helmet - Saving Private Ryan Online Encyclopedia

American Uniforms of WWII

WWII Dogtags



WWII Impressions - Virtual catalog of replica WWII U.S. Military Uniforms & Accessories

Stewarts Military Antiques WWII

WorldWide Military Exchange

Fisher Patton and the Red Baron - military antiques, medals & more

German Daggers

VetSignia - Veterans Recognition Window Stickers

The Flag of the United States of America

The History Channel Store

Military Warehouse

Valor Studios - Military artwork and collectables
What Price Glory - Museum Quality Reproductions
a la Bataille de Le fiere - a unique B&B nestled in Normandy


US Army Divisions in WWII (print)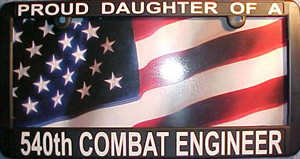 Military License Frames - Run by a really great guy. Here's the one he made for me.
Thanks Dave, I love it! It's on my Ford Focus.
Please report broken links. Thank you.