May 16, 2016
I just received an email minutes ago from Armonde's daughter, Maria. Oh my heart and soul breaks once more. Sometimes I feel that I cannot bear to hear of another WWII veteran leaving this earth. She and I had been corresponding over the last few months, after her father needed more care and was moved from his home in PA. I still sent him notes and letters and she wrote every few weeks, telling me how much he appreciated hearing from yours truly. As many of you know, he and I were extremely close friends, and if all went well, I was planning on visiting him when I went to PA this Oct. Alas, it was not meant to be. Oh I am feeling oh so sad right now. Farewell my dear friend...
"Dear Marion, With sadness I am writing to tell you that my Dad, Armonde J. Casagrande passed away yesterday, Sunday, May 15, 2016. God blessed him with 96 years. Your contact with him and the engineer project meant a great deal to him. He spoke of his Army days quite often, much more so after communicating with you. So thank you for the part you played in bringing his memories to the forefront. Maria"
Armonde contacted me in several years ago and said he been with the 343rd from the moment of it's inception and that he would love to help others with any questions they had. I responded right away and said that I would forward the info to the two gentleman who posted inquiries on our forum.

Since then I've learned quite a bit about the 343rd's and Armonde's history and am very happy to share it with you below. Thank you for all your help Armonde. I look forward to our future correspondence.
Dear Marion:

Glad to hear from you. For starters, we arrived in Nettlebed, England, about July 15, 1942. We were attached to the British army and thereby under their command, which meant that they also had to feed us. Mutton and liver was the main staple, which caused many of us to head for Henley, a few miles away for fish and chips. I have the dates on which we entered the different places etc., also a list of over eight hundred names and addresses ( for that time ). For instance, Harry J Drake - RD 1, St Ignatius, Montana. All members of the 343rd.

I served in the HQS (Headquarters & Service) Company as the Regimental Supply Clerk. I could go on and on. Most all that I did correspond with, are now gone. There is only one that I keep in touch with now, Sgt Harlan Geise. He was the Regimental Surveyor. In fact, just got a letter from him yesterday. Hey, keep in touch. Incidentally, the outfit was know as "The Bridge Builders"................Armonde

... The 343rd was commanded by Col Richard B Dunbar

Dear Marion:

Nice to hear from you again. I admire your work on giving the Engineers a shot in the arm. Give me some time to write up a brief summary about what the Engineers were really about. How the important the work they did hastened the end of the war. The 343rd GS Engineer Regiment received many commendations from the highest Headquarters in the ETO, and earned eight campaign stars and an Bronze Arrow Head for the invasion of Southern France. In my summary I will give you a thumb nail description of what the Engineers job was. This includes all the Engineers Outfits, and there were many in the ETO. By the way, I haven't heard from anyone else as yet, I hope they can get thru to me. Of course, most of what I tell you will center on the 343rd because of what I've seen and experienced.

Armonde


Dear Marion:

You mentioned Anzio in one of your e mails. Unfortunately, General Clark, erred in his judgment on that one. On landing they met little or no resistance. The Germans had left. Ignoring the advice of the English General (I forget his name right now) to advance and keep after them, Clark insisted that they stay. A company of Rangers, not knowing about the decision kept right on after the Germans, thinking the Army was following. The Germans realizing that they were not being pursued, came back, capturing the Rangers. They controlled the high ground. The Americans were at sea level, and were like sitting ducks. We lost an awful lot of people. A call went out for reinforcements. The 343rd sent about nineteen. I don't think any of them came back. The Times Magazine had an article about the snafu. It was an awful time for General Clark, under whose command we served. You could probably do a little research on that.

Armonde

... By the way, The title of "The Bridge Builders " was bestowed upon the 343rd by Gen. Mark Clark

Armonde
Marion, Marion, Marion,

What did I think of Gen. Clark? I always thought that he was a fine leader in spite of the "fiasco" at Anzio. After all, he wasn't the only one that goofed now and then. He thought very highly of the 343rd, and always made sure that we were with his command. As for Patton, he was a no-nonsense, strictly military man. I remember when we were under his command in Sicily. It was in late August with the temperature around 100 degrees. Order of the day was that if you came into Headquarters, you had to dressed in complete uniform. Wear your woolen shirt and pants, your tie neatly tucked in the shirt, your steel helmet and leggings. Talk about sweating. Of course, you know what happened at the military hospital with the young private. Gen. Patton along with his pearl handled revolvers was relieved of his command. It wasn't until near the end of the war that he was finally given command of an Armored Division, and ran rough shod over the Germans.

As for getting along with the higher up's, there were no problems with our company officers, except for maybe for two or three who probably used political pull to get their bars. You must remember, like your Dad, we were there to do a job. The Engineer Corp was manned with highly skilled personnel in the construction field, heavy equipment mechanics and operators, etc., I was in the Painting & Decorating business with a Business education as well as being a typist. As for saluting, I think the only one who ever got saluted was the Colonel. It wasn't like in the movies, everybody saluting. The immediate Sgt's where OK too. Like one big family...

Armonde

.... You know, in all our conversations about the 343rd, I forgot to mention the most important unit in the Regiment, and that was the Medical Unit. We had Doctors, Dentists and even a Chaplin to take care of us...
Your welcome Marion, glad to help. Haven't had a reply from Tony, as yet. He wanted to know about Nettlebed. So, I'll let you in on this bit of info.

When we arrived at Nettlebed around July 15th, we found the Camp already existed. It was like someone moving out and we moving in. Nettlebed was complete with Mess Hall, office buildings and Quonset Huts. The Huts were used to house the personnel, they were constructed of sheet metal with a concrete base and furnished with plywood cots, and they accommodated 16 to 20 people. They were probably built by the British Engineers. The Mess Hall was staffed with British personnel. The assumption was that we were kind of attached to the British Command.

The daily dinner diet was mutton or liver. Pretty tough to take for a bunch of guys that were used to hot dogs and hamburgers, so off we went to Henley-on-the-Thames for fish and chips. Some of the guys that stayed in camp would hunt and cook rabbits. I was the Company Clerk at the time, and later transferred to the Regimental Supply office. And that's where the work became in earnest. The ensuing months involved outfitting the line company with all kinds of supplies and equipment in preparation for North Africa, and all the projects we had going at the time. The toughest part of Nettlebed was getting used to the British rations.

Marion, if you have any questions about what I sent you, let me know.

Sincerely,
Armonde

... Marion, I forgot to mention in the last email that it was the H&S Company that occupied Nettlebed. The line companies were camped in areas nearby. Thought that you would like to know.

Armonde
Somewhere in Italy, 1944.




Headquarters
343rd Engineers (GS)
APO 758, U.S. Army

22 April 1945

Third Anniversary Message

Three years ago today this regiment was activated at Camp Claiborne, Louisiana. Most of you had never worn the uniform of the United States Army before you were assigned to this command during the weeks that followed activation. How you responded to intensive training at Camp Claiborne and Fort Dix and later in the Chiltern Hill of England is a matter of recorded of which I have always been justly proud. Most of us made many friends in the British Isles and the quality and method of our work and our bearing as soldiers were an exemplary performance for the oncoming millions of our comrades in arms to live up to. Our landing in North Africa among the very first of the task forces to strike the Axis in the Mediterranean Theater won the first campaign start for the regiment. Our record in and around Oran and later across a thousand miles of North Africa has been officially recognized in many commendations from the highest headquarters in the theater.
On the strength of our past record we were selected to help General Patton and the Seventh Army to conquer the island of Sicily. Our important part in the conquest is a matter of record set down in commendations from both the British and American Commands. Another campaign star was added to our flag.
Landing at Salerno in September 1943, we found ourselves a part of a fighting Fifth Army, which had recently made headlines all around the world with its initial assault on the continent of Europe. The Italian campaigns were of a type to constantly demand day after day the very best soldiering and engineering that was in each one of us. It was a fall and winter of bad weather, bad roads, and a stubborn enemy. Spring found us carefully preparing to drive the German out of his fortifications along the Cassino front. The successes of the Fifth Army in which we played an important role, has been recorded in commendations from General Clark and our award of the army plaque for meritorious service during the month of May 1944, the month in which the German lines south of Rome were finally broken, are all now a part of history. The pursuit of the enemy north of Rome was unbelievably fast, and the performance of the engineers was once more outstanding. Two more campaign stars were added to our flag.
Again on the strength of the record of our superior performances we were chosen to land on D-Day with the Seventh Army in southern France. I had never expected to see a need for us to duplicate our record in Italy for speed of construction. However, the southern France campaign demanded that we surpass even that performance. Over hundreds of miles we opened highway and railroad lines in unbelievable time. General Patch in a commendation called specific attention to the role we played in enabling the Seventh Army to make its phenomenal advance to the German border. We added another star to our flag, the southern France campaign.
A survey of our progress up to the Rhone Valley made us realize that each move we had made from Camp Claiborne to the Moselle River, had demanded more and more from each one of us. Our attacks became harder as the war progressed. So far we had met each demand we encountered and the Germans were still on their feet. His remaining power was made evident during the winter of 1944-1945, when we were called upon to quickly construct a defense line in the Saverne Plain. This we felt certain, was his last offensive effort and so it turned out to be. Spring has seen him driven out of his Siegfried defenses, across the Rhine River, and on to the Elba River, the last natural line of defense before Berlin. Our part in the German campaign is still fresh in our minds. General Patch has called our first bridges across the Rhine, "a fitting climax to a long line of construction projects you have so brilliantly completed."
It is my earnest hope that our most difficult days are behind us as General Patch indicated. Some of us have been home during the past year and returned. I am sure that each on of those fortunate men will tell you that he was proud to have been a member of this regiment, which has been widely publicized for its individual and collective accomplishments in the newspapers all over the United States.
As each of you in the year to come or at a later date lay aside your O.D.'s and put on your civilian clothes, I sincerely hope you will not lay aside your proven ability to become and remain the rest of your lives, the very best citizens of the United States, as you have been her very best soldiers. You have witnessed during the past three years the evidence of a lack of vigilance on the part of free men to guard their liberties which had been their hard won heritage. The sight of wholesale destruction and suffering has been before you constantly. Let your own experience serve to keep you constantly alert to any future encroachment on your rights and privileges as free men.
Richard B. Dunbar
Colonel, CE
Commanding
Marion's note: Here's some additional information that I found on Armonde's unit.

The 343rd was a General Service Engineering Regiment, who played a vital role in the Sicily Invasion. They even worked and fought in the very same places that my father's unit, the 540th did. That was a pleasant surprise.

Behind II Corps, the 20th Engineer Combat Regiment on Highway 113 and the 343rd Engineer General Service Regiment on Highway 120 shared road maintenance responsibility within the army area.

The 20th Engineers improved 18 bypasses on Highway 113 between Palermo and Cape Orlando, and the 343rd did similar work on 21 bypasses on roads from Cape Orlando to Messina and Randazzo.

The 540th CE Reg (less one bn) worked briefly at Palermo, then moved on to operate the beaches at Termini Imerese. The 343rd Reg whose responsibility for Palermo was also brief, replaced the 540th on July 30, 1943.

The following is in regards to the invasion of the Italian mainland:

The 3rd, 34th, 36th, 45th Inf Div's along with the 82nd Airborne and 1st Armored Division were the main invasion forces and of course had their own permanently attached engineer units. A navy beach master was to maintain communication with all the ships and control all operational landings. A port HQ consisting of two Transportation Corps port battalions, was to coordinate all unloading into small craft offshore, but the pivot of beach supply operations was the 531st Eng Shore Reg and the 540th Engineers, the former assuming responsibility during the assault phase. The 531st, a component of the 1st Engineer Special Brigade for the invasion, replaced the 343rd Engineers, which was trained in beach support operations but had neither the experience nor the equipment to carry out this function.

This is in relation to the Volturno River crossing:

From the time the troops crossed the lower Volturno at Capua and Caiazzo to the time they crossed the upper Volturno and Colli, they were extremely short on bridging material. They had to resort to low-level bridges and mainly used materials that were scrounged up from the local country-side. Flash floods played havoc with most of the bridges and many were completely wiped out.

The one bridge sturdy enough to resist the torrent was a semi-permanent structure that the 343rd built at Capua between Oct 16 & Nov 9th. This pile bridge was a major link in the 5th Army lifeline for a 6 month period!

That bridge was 332 ft high, 370 feet long, and was classified as a two-way Class 40, one-way Class 70 bridge. In the first 24 hour period after the bridge opened for traffic, 10,000 vehicles crossed. During the campaign, 1 million! Way to go boys!!!

During the June and July drive to Arno, much of the 5th Army forces were preparing for Operation Anvil (the Invasion of Southern France). The non-divisional engineer units that split away from 5th Army control included the 36th, 540th & 48th CE Regiments and the 343rd & 344th Engineer General Service Regiments.

Here's a reference to Aix, France in August of 1944:

The 343rd Engineers restored service to Aix in ten days by a stratagem that saved days in repairing a 104 foot gap in a rail bridge. In the area the regiment found a German 270-mm railway gun. They hauled it to the site, stripped the gun and the rail trucks from the traverse base of the piece and attaching a ten-foot steel extension, launched the platform as the stringers for the new span across the void in Bailey fashion. The Aix bridge work was completed on August 29th.

At the same time they were restoring a bridge at Meyrargues over rising river levels. After closing a 107-foot gap with the first Bailey Railroad bridge in France, a quadruple-single span with a deck thirty-eight feet above the water's surface, which opened to traffic on September 18th.

The 343rd was assigned the job of opening the Marseille-to-Lyon route, and began work on the Livron Bridge on September 7. Before the war a masonry-arch bridge has stood and had carried a single track across a muddy-shallow Drome. Now all that was left was a pile of masonry with a 310 foot gap. The 343rd placed steel I-beam stringers and by Sept 20 the bridge was open to rail traffic 5 days ahead of schedule. This performance along with the units previous actions in the southern Rhone valley, earned them a commendation from Lt Gen Patch.

After October 30, 7th Army Engineers divided the responsibility for rail rehabilitation. The 1st Military Railway Service supervised the construction of forty-two rail bridges and the repair of nine between Marseilles and Dijon by early 1945. The work continued and was performed by the 40th, 94th, 343rd , 344th, and 540th Engineer Regiments and the 1051st Engineer Port Construction and Repair Group.




Marion's Note: The following post was taken from my forum.


In the woods near Nettlebed in England is a small reminder of the US Army Engineers' presence in the area in World War II. A small stone 'Castle', taken from the Engineer's badge, was said to be one of two constructed at the entrances to Nettlebed Camp. This was a camp used by US Engineers as a training base set in the woods of the Chilterns north of Reading and near Henley. On it is a sign saying 1942 - 343rd Engineers US Army, probably the unit which built the camp.

Does anyone know of the history of the 343rd Engineers?

I'd like to find out more about the camp or hear from any veterans who served there. There were also camps nearby at Badgemore, Henley, Checkendon and Kingwood Common that I am also interested in.

Contact me at 44 1844 281575.

Best Wishes,
Tony Honeyman




March 11, 2014
Pleased to share additional documentation, which I received today in the mail. Thank you Armonde.
343rd Engineer Commendations
343rd Engineer Journals - Jan, Feb and April 1944 - March is missing
343rd Engineer Journals - Underground Construction in Italy - May 19, 1944
343rd Engineer Journals - Tunneling Report June 28, 1944
343rd Engineer Journals - Aug - Oct 1944
343rd Engineer Journals - Request for Engineer Histories - Nov 17, 1944 and subsequent submittals
343rd Engineer Journals - Nov through Dec 1944
343rd Engineer Journals - Jan - March 1945
343rd Engineer Journals - April - July 1945
More on the 343rd


08-13-06

Marion's Note: The email below is from Captain Al Kincer of the 48th Combat Engineers.
Marion:

Reference the Armonde Casagrande article. Col Richard (Dickie) Dunbar commanded the 111 Engineer Regiment of The 36th Division before it was triangularized in 1941. I knew two officers in the regiment, Lt's Lee & Bill Tucker. They were ranchers from Bowie Texas, my home town, and good construction men. The 343 restored the Port of Naples after the Italian Invasion of 1943. They had the best of the specialists.




01-06-07
Here is the commendation that was given to Armonde's unit.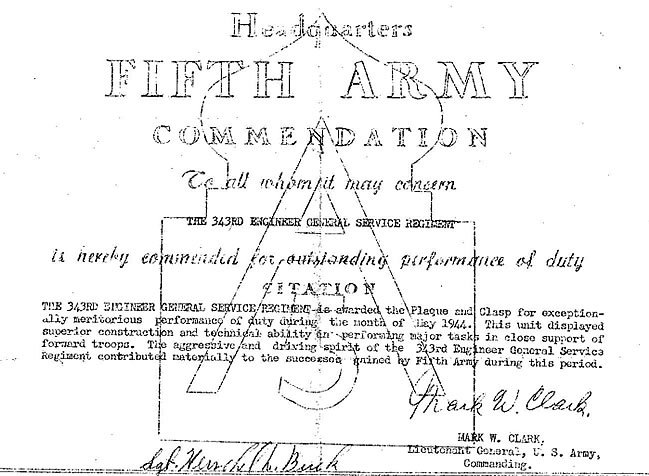 02-02-07
Marion's note: I recently put Armonde in touch with the gentleman below whose father was a member of the 343rd. I am happy to report that they have been keeping in touch. Buck also sent Armonde a photo of his father from the war.
My father was Tech Sergeant Herschel Buck. I was watching the history channel today and they had on he crossing of the Rhine river. I dug out my dad's Bronze Star and was reading a news clipping that my mother had enclosed with it. It said my Dad operated a 5 ton Northwestern pile driver and drove bridge pilings and helped construct the first fixed bridge across the Rhine ten days ahead of time. That was from March 29, 1945 to April 8, 1945. He enlisted April 16, 1942 went overseas July 1, 1942 and served in England, Africa, Sicily, Germany, and France. I wish I knew more but he never talked much and he passed in 1988. I found your site while doing a quick search and thought I would pass this along. I don't know if anyone who served with my Dad's regiment is still around. If you know of anyone please pass this on.

Sincerely,
Francis Buck
Your e mail was forwarded to me because I also with the H&S Co of the 343rd Engr Regt. From the start to the finish. I do remember your father, but vaguely since I was the Regimental Supply Clerk, and usually see the rest of the guys when things slowed down. But, I do know someone who might of worked on the same jobs. He was the Regimental Surveyor. We have been in touch with each other for a long while. Since he doesn't have a computer and I'm in the process of answering his last letter, I'll mention this to him. I know that he also had something to do with the bridge across the Rhine, well, practically a lot of the building. So, when I hear from him again Frank, I'll let you know what he has to say. Have a Happy New Year.... Armonde
To: Armonde Casagrande Sent: Monday, January 01, 2007 5:21 PM Subject: Re: 343rd
Thank you for replying back. This is a picture of my Dad Herschel Buck. I do not know when this was taken but I would guess when he got home. I have some other pictures but have no idea of what or where they were taken. Francis Buck


10-02-07
The following is a "Letter of Farewell," to the Commanding Officer of the 343rd GS Regiment, from General Patch. Below is the regimental patch.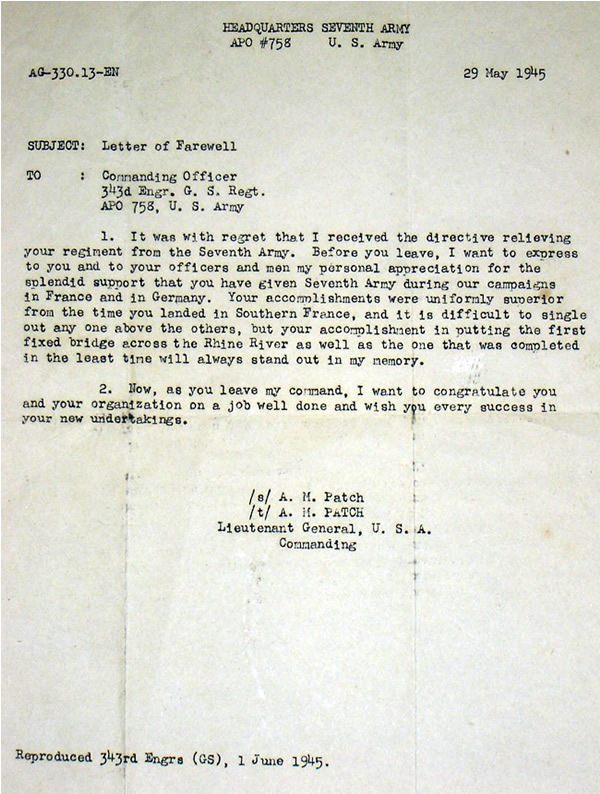 10-17-2014
This was written by a friend and fellow member of Armi's unit. Thanks for sharing this with us my dear.
My Thoughts About the Greatest Generation - by Reed Banks
01-30-2017
Dear Marion,
Hi, I am Armonde's son. While cleaning out our homestead, after my father's death, I came across an old 78 rpm record. There was no labeling information on it, but I suspected it had something to do with his Army days. So I took it to an audio/visual restoration shop and had it made into a CD. Sure enough, it was an old interview he made in France for Armed Services Radio. It's just the usual who are you? What do you do? Do you miss home?, type of interview (about 2 ½ minutes) but I thought you would like to hear it. I don't believe he even remembered he had it because he never mentioned it before. From the information on the interview, and from a detailed record he kept of his war travels, the interview took place around mid August 1944, just after the invasion of Southern France, either in Aix-en-provence or Le Pontet, near Aviguon, in Southeastern France. My dad was 24 years old at the time.
We miss him a lot. We thought you might enjoy hearing his voice as a young man, as much as we did.
Sincerely, Armonde Casagrande Jr.