Earlier this fall I received another email from Willie Joy, son of Ernest Joy. If you've visited this site before you may remember that Willie was the one who emailed me and said that he had a photo of our fathers together with the motor pool in Germany. Anyway he gave me the name, address and phone number of another member of the Headquarters & Service Company.
I called Ed a few weeks ago and wound up talking with his wife Margaret. I told her who I was and how I was interested in contacting as many 540th'ers as I could and that my goal was to become the official historian and write a book about them. She was very receptive and we wound up chatting for quite a while. She said her husband should be home any minute and sure enough he walked in the door. We wound up having a three-way conversation and I must say they were the nicest people.
Ed told me that he didn't have much in the way of photos or anything anymore because when he returned to the states after the war, they had to throw their luggage overboard due to a fuel shortage on the plane. Needless to say all his photos and little treasures from Europe wound up at the bottom of the great Atlantic Ocean. How sad to think of what was lost in just a few minutes that day. But he said he would dig through all their things and see what they could come up with. He was sure he still had some items from reunions, etc. They also told me that they would keep in contact and try to help me as much as they could.
This morning I checked my mail and Ed was sweet enough to part with a large and wonderful photo of a 540th reunion from the 60's. Ed also gave me four of the photos that he had sent home from France in December of 1944. I was so touched that he parted with these because I know how important they were and are to him. Rest assure that I wrote him a very nice letter this afternoon to thank him for sharing what little he had. Below is his letter to me and the four photos. I still have to scan the reunion photo and promise to share it with you soon.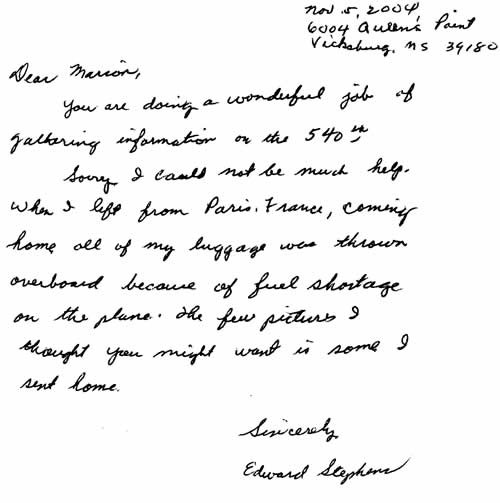 All photos taken in France in December of 1944.




I sadly relay the passing of Ernest Joy on June 30, 2006. I have the photo of you and my dad on and the rest of the motorpool on my desk and look at it every day. It's hard to believe that yet another one has gone. My condolences to Willie, Ben, Lynette and the rest of the family. Goodbye my friend.


John Ramano was the dispatcher