thoughts and prayers
For Tony Stefanelli, 36th Engineer. Had a blot clot this past week and is getting out of the hospital tomorrow. Doc said he is cleared to come to reunion with Carl Furtado. Man, that was scary. Love ya Tony. See ya there. Whew.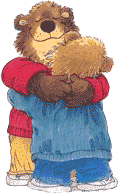 Marion J Chard
Proud Daughter of Walter (Monday) Poniedzialek
540th Engineer Combat Regiment, 2833rd Bn, H&S Co, 4th Platoon
There's "No Bridge Too Far"