Today I wish to extend my thoughts and prayers to WWII veteran, Johnny Thompson and his family. Johnny is undergoing tests for lung cancer this week. Please post a note for him, sending your best his way.

http://www.6thcorpscombatengineers.com/JohnnyThompson.html

We love ya Johnny!!!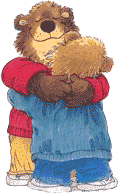 Marion J Chard
Proud Daughter of Walter (Monday) Poniedzialek
540th Engineer Combat Regiment, 2833rd Bn, H&S Co, 4th Platoon
There's "No Bridge Too Far"