My dear friend Russ Weiskircher, 45th Inf Div, is going into the hospital on Tuesday. Thoughts and prayers from our community are greatly appreciated.
Here's to your health Russ. I expect to hear from you as soon as you are out of the hospital. God bless you now and always.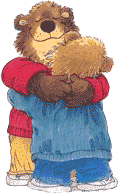 Just sharing some pertinent thoughts on this Friday before I check into the hospital on Tuesday for whatever heart surgery is indicated. Everything points towards a simple cath and stent service or replacement. Only G0d knows. I pray for his blessings and for the surgeon and for my patient wife. She inches ahead with her walker, I stride to hide the chest pains but we walk hand in hand with our God.

 

Keep well and in touch! Russ
Marion J Chard
Proud Daughter of Walter (Monday) Poniedzialek
540th Engineer Combat Regiment, 2833rd Bn, H&S Co, 4th Platoon
There's "No Bridge Too Far"