Thought of many when I found this today, but especially Brooke. Hey Chambers, I think you will want to have this little treasure.
Buddies: Men, Dogs and World War II (Paperback)
I sent the link to my two 36th Eng buddies, Carl Furtado and Tony Stefanelli, for I thought of Chalky when I saw it.
To Dogdaddy, Chuck, and all other dog lovers!
Photo is Carl Furtado and Chalky in Italy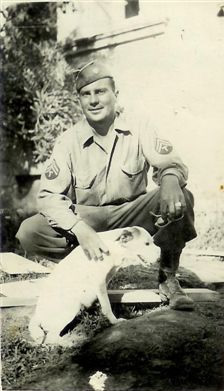 Marion J Chard
Proud Daughter of Walter (Monday) Poniedzialek
540th Engineer Combat Regiment, 2833rd Bn, H&S Co, 4th Platoon
There's "No Bridge Too Far"