At the American Cemetery in Normandy, there is a famous statue called "The Spirit of American Youth Rising"
The sculptor is Don De Lue from New Jersey. He has a couple of monuments at Gettysburg including the Louisiana State Monument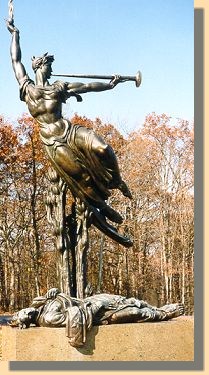 She has been called the Angel of Death, but is probably St. Barbara, the patron St. of Artillerists. Notice the flaming orb in her hand.
Notice how the forms are similar: both are reaching upward to represent the spirit arising over difficulty. In the Gettysburg statue she is actually hovering over a dead soldier, the Normandy statue probably implies soldiers arising from their bodies.