Letter from Jo Beret, requesting assistance...
Hi, Marion,
Hope everything is getting well for you. The beginning of the year was awful, we lost too many dear friends veterans. I just wanted to pass you this message, in case it would be of some interest on your site. Nothing to do with the Engineers, but, who knows...When answering, do not forget my new email address.
All the best to you
Jo
Dear Friends,
You know the Association « US Normandie mémoire et gratitude » which for several years already has been working to preserve the historical sites in the commune of Amfreville (la Fière, Cauquigny ..) whilst keeping alive the memory of the D-Day heroes of the 82nd Airborne Division.
This year, on our 66th anniversary, we have published a brochure in French describing the historical circuits in Amfreville (see below enclosed) as well as a small 40-page guide explaining the events which took place between June 6th and 10th, 1944. Our next project will be to place a plaque at the spot where General Gavin landed.
Whilst General Ridgway parachuted near la Couture, on the DZ O situated outside the area covered by our Association, we know that General Gavin landed on the high ground in the commune of Amfreville, probably on the zone limited by Amfreville-bourg, the Chateau gris and Timmes Orchard. But where exactly?
The information given in his book "Onto Berlin" does not define the precise spot. We need your help, therefore, dear veteran friends all, in order to locate precisely the right place, the right field.
How to proceed?
The first step is to rack your memories, check your records, your communications, ask of other veterans, or their families, or those who were in the same plane as the General, and send us any information which you think could be of use. If you happened to land not far from him, or encountered Gavin's group during the night of June 5th/6th, tell us your story in detail. Just as in a police inquiry, every detail counts, to be reassembled with others.
Next, we will send a detailed map to all those amongst you who have the most precise souvenirs, so that, thanks to you, dear veteran friends, the General's memory will be preserved forever in this small corner of Normandy.
We know we may count on you to freely circulate this message around you, and we thank you in advance for all the help you can give. Naturally we will keep your informed of the results of this vast enquiry, once terminated.
With all our warmest wishes,
Jo. Baret, member of U.s. Normandy-mémoire & gratitude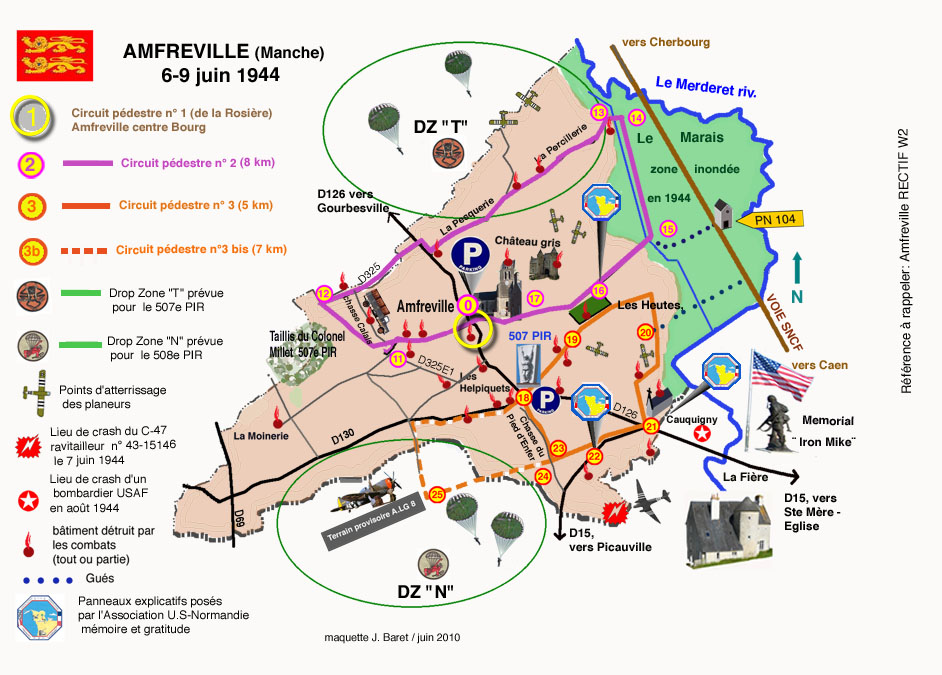 Marion J Chard
Proud Daughter of Walter (Monday) Poniedzialek
540th Engineer Combat Regiment, 2833rd Bn, H&S Co, 4th Platoon
There's "No Bridge Too Far"