Received this letter from my friend in Europe. I am sharing his email and the speech he will be giving during John's visit. I am also including a recent photo of John.
Dear friends,

 

Doctor John McAuliffe of the 87th Infantry Division will be in our City Rochefort June 19. I send you a copy of my speech. John will rejoin all the friends who have been received as Freeman of the City. If I could received a message from you, I will annex it in the Guestbook. With my warmest friendship.

Thanks and best regards.

 

Gilbert N.Stevenot
============
Dear Veteran dear John McAuliffe,
On behalf of our grateful nation and more specifically the entire population, along with the authorities of our city Rochefort and the patriotic associations, it is an honor for us to welcome such a great soldier who shares such a well known name. Although this was indeed a private visit, I wanted to welcome my long time friend by organizing a memorable reception. He is also a close friend of Patton's family and well-known all over the States, in Belgium and in the Grand Duchy.
For us today, this ceremony is an important,and memorable.
We are gathered in the City Hall to honor, to pay tribute, to think about and to remember all the men who gave their lives fighting for their country, for ours, but unlike you - did not return home. Each of them is a genuine and authentic hero. A convenient date to commemorate the 66th anniversary of the invasion of Normandy, June 6th.That's why we can never forget what they did for all of us.
What brings you back so often after all of these long years ?
You came back because you wanted to see us again and talk with our people once more. And we know that no distance is too far, when friendship travels from heart to heart.
So who is John McAuliffe ? John was born in Brooklyn, NY on October 6th, 1923. He joined Holly Cross College at Worcester, and in 1950 after five-years of study, he was awarded a diploma of doctor of dental surgery. He then joined the army and assigned to the 347th Regiment of the 87th Infantry Division. He took part to different campaigns in Europe, in France, in the Ardennes and in Rhineland. He received the coveted Combat Infantry Badge. To be entitled to wear the Badge, he had to be on the line for thirty days. He was also awarded the Bronze Star. During the Korean War, he was promoted to First Lieutenant in the medical corps. He was assigned to Fort Lesley J. McNair and to Washington D.C. from 1952 to 1954. Afterwords, he practiced dental surgery 35 years in Worcester, Massachusetts.
John later joined the veteran association, and became the founder and president in his district. He was Commander of his 87th Infantry association in 1998-1999, and traveled the length and breadth of his country, to the important towns in Massachusetts unveiling monuments on Memorial Day and being the spokesperson for his division. He crossed the Atlantic eight times, and being one untiring traveller with such a famous name, he is always surrounded by many friends - just he is today. We are very proud to welcome John McAuliffe today!
Rochefort was not your field of actions during the Battle of the Ardennes, but you fought not far from here. It was not the case for other big heroes like Colonel Winchester Kelso, Lt. Hart and Murray Storm. They were all in the fight, and came back to honor the 84th Infantry Division. Important groups of the 1st Canadian Parachute Battalion were also in our city at several big anniversaries, coming from Normandy. They liberated the town on the steps of the 84th Infantry Division.
Two other dear friends, General Albin . Irzyk and General James Leach of the 4th Armored Division, were in Bastogne, and knowing what happened in Rochefort, which was badly destroyed by Bayerlein troops, they paid us a visit. And all of them are in the guestbook as Freemen of our City.
Your renown 87th Infantry Division, along with the 84th Division, was one of two main shoulders of the German offensive, containing the enemy and annihilating their purpose to reach the Meuse river. You were coming from the Saar in curtain-siders under freezing temperature, and passing through Paliseul your division liberated Saint Hubert and engaged bloody fights in Pironpré, Tillet, Bonnerue and Moircy. It was then on to the final rush to Bastogne where the last gamble of Hitler was coming to a close.
You later fought along with the 4th Armoured Division in France, in Germany, finally arriving in Czechoslovakia on May 8th, 1945.
After the war you came back at several important ceremonies in Belgium and Luxemburg. We became good friends, and with the Corlux (Cercle des Officiers de Réserve de la province du Luxembourg), Kady Mitchell and Bill French, who came in Rochefort to celebrate the 60th anniversary. We raised an important monument in Pironpré and placed plaques in St Hubert, Tillet, Bonnerue, Moircy, places you hold close to your heart.
I remember one day, John, you had sent me a picture of a monument built by the renowned sculptress Gertrude Vanderbilt and your father, Timothy Florence, to honor the one million American soldiers who fought in the Argonne in France. It was the first invasion of the American Army into French territory to put an end to that WWI great battle with the German Army.
Let us recall that more than 110,000 American Soldiers lost their lives there, which is about the same number as in the European Theater. You knew that the Germans had destroyed that memorial, 14 meters high with a big eagle landing on the top, and with a soldier wearing a sword. Later on while surfing on the internet, I learned that the French Nation had rebuilt the memorial exactly the same way. It was a wonderful childhood memory for you John.
I wanted to relate these anecdotes to draw a parallel between the two big wars in which your nation had restored our rights and Liberty.
As long as there is war, as it is the case in many other countries in the world, we will need men like you, and we will need particularly the spirit, the will-to-fight, dash, confidence, audacity and the debonair reckless-but also the ordered discipline that motivated those we honor today by your presence.
With our best regards, we remain forever indebted and in appreciation always as we have always been.
Thank your for your unforgettable visit John. God bless America!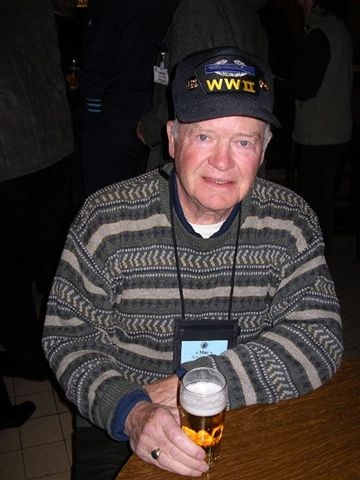 Marion J Chard
Proud Daughter of Walter (Monday) Poniedzialek
540th Engineer Combat Regiment, 2833rd Bn, H&S Co, 4th Platoon
There's "No Bridge Too Far"