Sir Max Hastings
WINSTON'S WAR
Churchill, 1940-1945
Member Reception - 5:00pm cst
Presentation & Live Webcast - 6:00pm cst
In one critic's opinion, the greatest actor in the history of the British stage never trod the boards at Drury Lane or the Royal Albert Hall. His venue of choice? 10 Downing Street.
On Wednesday, March 17th, Sir Max Hastings will appear at the Pritzker Military Library to discuss his new book, Winston's War: Churchill 1940-1945. Although this event is being held prior to the U.S. release of Winston's War, copies will be available for purchase by attendees. This event is free and open to the public. The presentation will begin at 6 p.m., preceded by a reception for Library members at 5 p.m. It will be webcast live on pritzkermilitarylibrary.org and recorded for later broadcast on WYCC-TV/Channel 20.
Eschewing the oft-traveled archives, Hastings focuses on Churchill from the outside in - through the eyes of those around him as well as those of the war-weary British people. It was an image more complicated than the one now remembered; Churchill's inspiring rhetoric could not resolve the coal strikes of 1941 or remove the sting of a long series of battlefield defeats. In fact, Hastings' account finds Churchill at his lowest ebb in late 1942, widely considered unlikely to continue as Prime Minister into the next year. There was, Hastings argues, a deep divide between what Churchill wanted from the British people and their army - and what they were capable of delivering.
How, then, did Churchill come to be known as Britain's greatest military leader? From 1940-1945, Churchill gave what Hastings calls a performance of "sustained magnificence" at the head of his nation, becoming the pure embodiment of the fighting spirit they would need to win. From the outset, when some in the British government favored peace with Hitler, Churchill was resolute. He overcame material disadvantages with sheer boldness; though prone to impulsive errors and bereft of exceptional field commanders, Churchill's larger strategic judgments about foes and friends alike were nearly impeccable. In Hastings' estimation, while many share the credit for the Allied victory, it was the lead actor of Winston's War who held responsibility for averting Allied defeat.
For many years, Sir Max Hastings was an award-winning foreign correspondent for BBC TV and the London Evening Standard, reporting from conflicts in the Middle East, Indochina, Angola, India, and the 1982 Falklands War. He was knighted in 2002. Hastings has written 19 books on military history and current events, including Bomber Command, which earned the Somerset Maugham Prize for nonfiction, The Battle for the Falklands, and Retribution: The Battle for Japan, 1944-45.
Seating for this event is limited, so reservations are recommended. Call 312.587.0234
This event is eligible for 1.5 Continuing Professional Development Units (CPDUs) for education professionals in Illinois.
610 North Fairbanks Court, 2nd Floor
Chicago, IL 60611
312-587-0234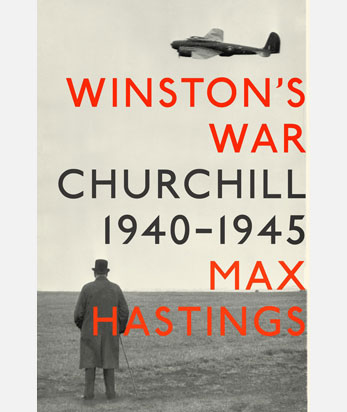 Marion J Chard
Proud Daughter of Walter (Monday) Poniedzialek
540th Engineer Combat Regiment, 2833rd Bn, H&S Co, 4th Platoon
There's "No Bridge Too Far"