In this day and age, we are often inundated with bad news around the world. They say, bad news travels fast! They aren't kidding.
Well today I share a story with a happy-ending, sent to me by my friend Kitty.
http://www.youtube.com/watch?v=rt6-1ZxrB6c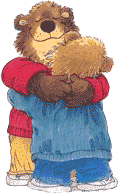 Marion J Chard
Proud Daughter of Walter (Monday) Poniedzialek
540th Engineer Combat Regiment, 2833rd Bn, H&S Co, 4th Platoon
There's "No Bridge Too Far"