Gen. George S. Patton's grand-daughter, Helen Patton Pluscyk, spoke to the veterans attending the American-Luxembourg Friendship Week at the EURO HOTEL, Gonderange, Lux.....She is married to a German physician living in Germany, and has one son. She attends many functions and events surrounding US WW-II Veteran's return to the former battlefields and cemeteries...in both Luxembourg and Belgium.She is founder and Director of a Charitable Foundation.
==========
Thanks John McAuliffe, who is pictured here with Helen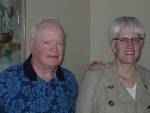 Marion J Chard
Proud Daughter of Walter (Monday) Poniedzialek
540th Engineer Combat Regiment, 2833rd Bn, H&S Co, 4th Platoon
There's "No Bridge Too Far"