133rd Inf Bn Welcome Home from Iraq
THIS IS A PROUD DAY FOR THE 34th. INF. "RED BULL DIVN.)
Marion can you post this picture ? Roque Proud day !!!
==========
Enclosed is a photo of the "Perfect Shot" of the 1-133rd Infantry Bn Final Formation on July 25, 2007, after their Mobilization and Deployment to Iraq. This is the photo that will down in history, just like the photo of the National Guard 168th Inf Regt, after WWI, in front of the Iowa State Capital.
There is talk of submitting this photo and story to the Army Times. The perfect Welcome Home after 22 months of duty and the longest serving Army National Guard Infantry Battalion during the Iraq War. Hoough!
A special Tim Mills for his efforts to get this photo from the roof of the grandstand in 90 degree heat and an old Colonel badgering him. Thanks Tim! "Pride and Joy" were the words that came to me when the troops formed up on the field.
We have the most wonderful National Guard in the Nation!
Russ
RUSSELL V. BIERL COL (Ret) Director, Gold Star Military Museum
Sure thing Rocky. Hugs, M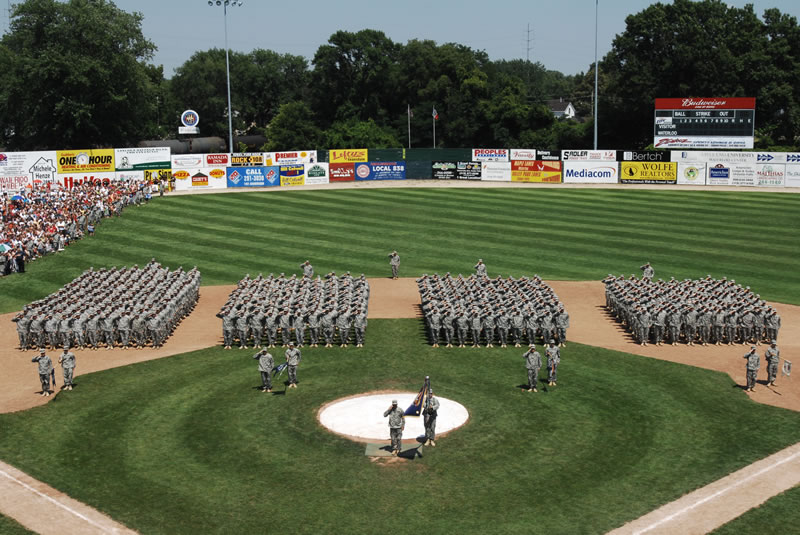 Marion J Chard
Proud Daughter of Walter (Monday) Poniedzialek
540th Engineer Combat Regiment, 2833rd Bn, H&S Co, 4th Platoon
There's "No Bridge Too Far"