Sappers battle to be best of best
Story and photos by Christian DeLuca, GUIDON staff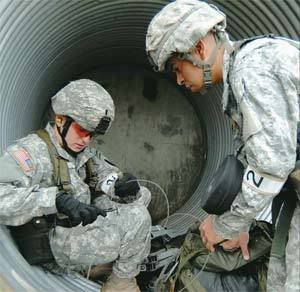 First place team, Lt. Colby Krug and Staff Sgt. Erasmo Flores, 66th Engineer Company, Schofield Barracks, Hawaii prepare to detonate explosives.
The 3rd annual Best Sapper Competition lived up to its name last week, when mental and physical exhaustion took its toll on seven of the 13 two-man teams, leaving only six to cross the finish line -- and one to be named best Sapper team.
Staff Sgt. Erasmo Flores and Lt. Colby Krug, 66th Engineer Company, Schofield Barracks Hawaii, took top honors in the grueling three-day event that tested the combat engineer skills of participants, while subjecting them to substantial physical strain.
The "Tropic Lightning" team, who also placed last year, said they came back to the competition for just one reason.
"To win it," Flores and Krug said.
"We had to come back and win it," Flores added.
The team said the competition seemed to be a little tougher than what they remembered from last year.
"There seemed to be more hills, more stress and strain," Flores said. "It was intense. It was a great competition."
During the awards brunch, Maj. Gen. William McCoy Jr., Maneuver Support Center and Fort Leonard Wood commanding general, said all the participants should consider themselves winners.
"I'm tremendously proud of the competitors," McCoy said. "To go through what we put you through these past couple of days, you should all be proud of yourselves individually."
Sgt. Gordon Paulson, 66th En. Co., was on another team from Hawaii. He said nothing he has done before compares to the Best Sapper Competition.
"I've been through a lot of training," he said. "I think this is the toughest thing I've done in my life."
Lt. Col. John Edborg, 577th Engineer Bn., commander said the competition allows Sappers to test their skills and will, while increasing their sense of esprit de corps.
"They go nonstop. They compete for approximately 58 hours and cover about 50 miles. They go through a number of events that test their combat engineer skills as well as their infantry skills," he said. "By the end of the event, they will have learned a lot about what they can do as an individual; what they can do as a team, and just how good their training has been."
The winning team will be presented with a bust of Ret. Lt. Gen. Robert Flowers, former chief of engineers, during Engineer Regimental Week later this month.
And the winners are
1st place: Lt. Colby Krug & Staff Sgt. Erasmo Flores, 66th Engineer Company, Schofield Barracks, Hawaii
2nd place: Capt. John Evangelista & Capt. Jason Winkelman, 554th Engineer Bn.
3rd place: Lt. Mark Gillman & Sgt. Gordon Paulson, 66th Engineer Company, Schofield Barracks, Hawaii
The events
• Physical fitness assessment
• 17 mile land navigation
• MOUT breach
• Knots proficiency
• AN/PSS-12 proficiency
• Grenade course
• Demo calculation exam
• Poncho raft swim
• Prussik climb and rappel
• 16-mile road march
• Foreign mine ID & 9-line IED report
• Weapons assembly
• Timber cutting station
• Weapons range course
• Steel cutting
• CLS & 9 line report
• Counterforce charge
• 9-mile run with multiple mystery events