---
What the major is up to now - CaptO - 12-11-2015




So there are no commissioned officers in USMC bands. . . or are there??!!

 
So when I emailed the band director (who knew I played trombone) to ask when tickets were available for the Christmas Concert (yes, actually Christmas and not "Holiday") he said, "Anytime. Hope to see you there. Do you want to sit in? Please?" The regular bass trombone player was on the sound board so I got to play with the band!! How 'bout that! After 20 years from when I told the recruiter I wasn't joining the USMC band so I could go to college, I'm finally playing in the band!! One more concert to go (Saturday) and I will have done all four concerts. What a shot of motivation for an old guy like me!!!
The rest of the photos are here:
https://picasaweb.google.com/104745627018165888181/MeAtTheIIIMEFBandConcert
---
What the major is up to now - Walt's Daughter - 12-11-2015



Wow and talented too! Who woudda thunk!??? You look great. Looks like fun and yes, happy to see the Christmas word.




---
What the major is up to now - glen blasingim - 12-11-2015




I am impressed! Nothing like live music, especially if you are making it. You are obviously a man of many talents. So when do the tickets go on sale for your gig in Colorado? It just so happens that we went to see Denver Brass in a "Christmas Concert" last night. Hope all your performances go well and you get invited back.

 

Merry Christmas,

Glen Blasingim




---
What the major is up to now - CaptO - 12-13-2015



Well, all the concerts are wrapped up and they went great! I am going back to play some brass quintet and trombone quartet stuff with them (rehearsal only) after my upcoming exercise. I am going to be in Thailand from Jan through March (about 59 days). Way too long. This will be for exercise Cobra Gold 2016 (CG16) but this time I am going as the III MEF CG planner. I went for CG15, but was only there for about 2 weeks. I'll let you know how that goes. Just to set expectations, I won't be crawling through the jungle drinking cobra blood with the Thais. No, for me I will be in a hotel in Bangkok as the exercise control group. Yes, I have become what I have always bitched about when I was "in the trenches" (so to speak - as much "in the trenches" as you get as a staff officer). I'm the hotel dwelling, per diem getting staff weenie.


---
What the major is up to now - CaptO - 03-13-2016




So I am actually back from Thailand. It was a total of 60 days in Bangkok. Pad Thai was getting old but it is so good!

 

Also, I got my new orders. I will be going to. . .

 
Yes. The most famous teeny-weeny town in America. Not sure what I will be doing there, but it won't be a comm job. It will be a generic officer job for Marine Corps Base Quantico.
The good news is that I will only be 3 hours to Cherry Hill, NJ!!! So I have already talked to my wife and if I don't have anything going on at work we will all be at the 36th/540th reunion!!
Yay!!!
---
What the major is up to now - Walt's Daughter - 03-13-2016



Oh yeah! You just made my day even better. I am SOOOOO excited for you and of course for me, for you will be at the reunion if God is willing. The vets will be delighted to hear this.



---
What the major is up to now - CaptO - 07-26-2016




Update:

I am now checked in to my unit, Marine Corps Base Quantico. I belong to the MCB Quantico HQ Battalion and will serve as the Commanding Officer of the HQ and Service Company therein. Would have been nice to be the CO of an operational unit, but still - command is command. I may just do this until I can retire in 3 years. Who knows? Time will tell.

 

It is a little bit of culture shock in reverse coming to the States - especially after loving Okinawa so much. Customer service is as consistently good as it is over there and now I have to tip at EVERY restaurant!! Also, (for those who have gone from a left hand drive car system to the right [or vice versa]) I keep hitting the windshield wipers when trying to indicate a turn!! Or at least I did at first, but it still happens every now and then. Anyway, my family and I are looking forward to the reunion in October! Just can't wait!




---
What the major is up to now - Walt's Daughter - 07-26-2016




Welcome home!!! It will be good to have you back. Wish I could type a longer note right now, but have to run, for I have a meeting at 4:30 and then our T-Ball ice cream social is at 6 PM. I'm chairperson of Alger Parks and Rec, so duty calls.

 

Till later, gator!!

 

---
What the major is up to now - CaptO - 09-13-2018




Wow, it's been a while since I've posted this! Since then, I've now been made the S-3 (operations officer) for the Battalion and will soon be running (in the operational sense, of course) the Marine Corps Marathon in DC. During that event, October 28th this year, the Marines from Quantico go up to Washington D.C. to provide most of the manpower to facilitate the race. We man water/Gatorade points, food stations, and the start and finish activities (such as giving medals to all finishers). This year, I get to be the operations officer for all of the Marines involved - yay. It's a lot of work and a SUPER early morning, but it's a good time and mostly a lot of fun - at least when you are at a water point of food station. the ops section will be locked in some building somewhere so I'm not sure how fun that will be.





Lastly, other than running the marathon (once again, not in the jogging sense!) I'm running other events here in Quantico for the Battalion. We always want to get Marines out of the office to "Marine things" and this was one of those efforts. My portion starts at 1:30:





https://www.dvidshub.net/video/623944/saved-rounds-episode-11





---
What the major is up to now - CaptO - 09-13-2018




 I also forgot to mention I played with the Marine Band in Quantico, too!! This was August of last year.





In Fredericksburg town square: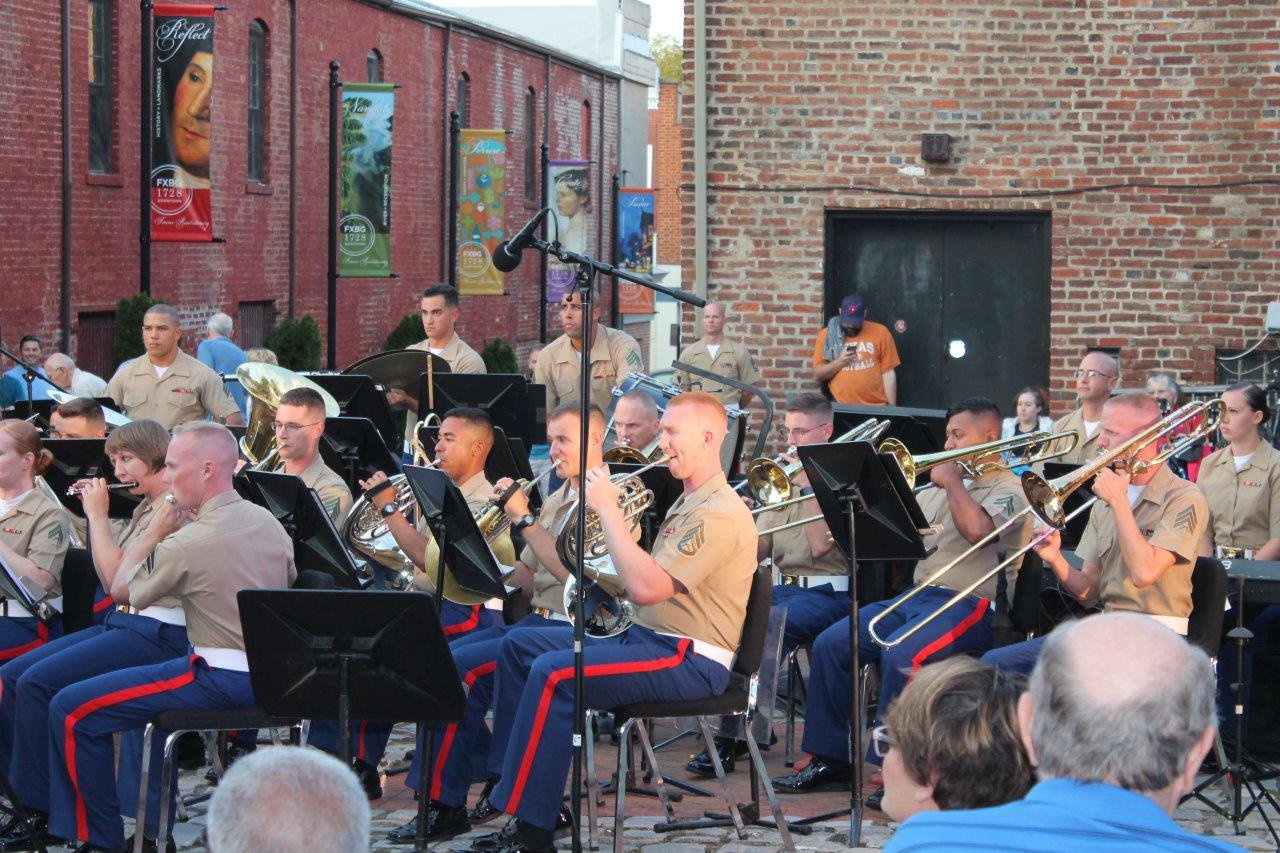 And at the Marine Corps Museum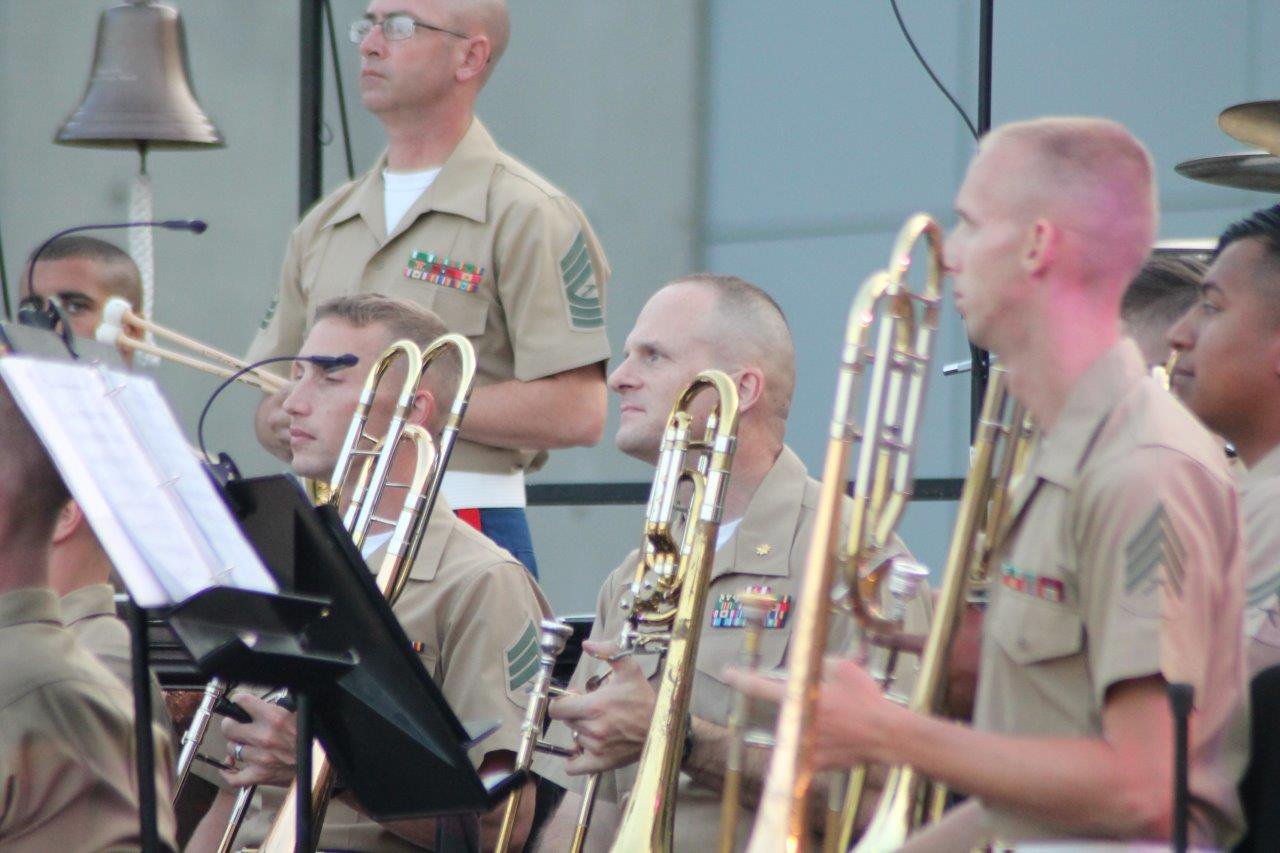 ---