---
US MARINE , - sixgun - 10-12-2014




ANY OF OUR MARINES WANT TO COMMENT ON THE IDENTIFICATION OF THESE PARTS OF A MARINE ?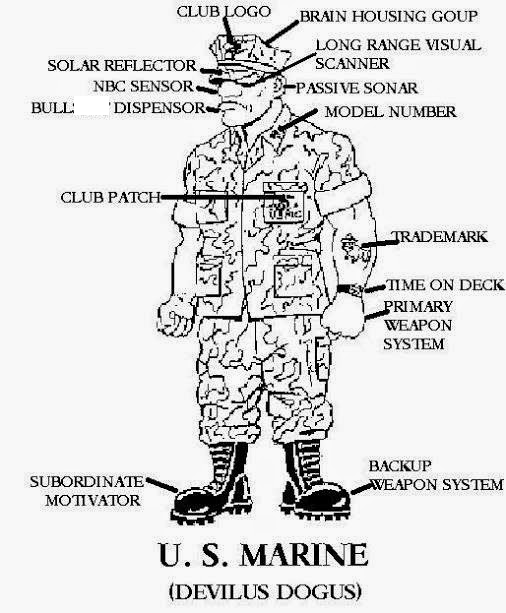 ---
US MARINE , - CaptO - 10-27-2014




Vee,

I've been meaning to reply and have been really busy at work lately. Who would have figured? You get a new colonel as a boss and your workload goes way up!! Anyway, I think I have seen this before or at least something like it. Pretty funny. I do want to point out that it should be "Brain Housing Group" on the top. That is actually a fairly common term for head or even for one's mind. As in "You better clear out brain housing group and un**** yourself or I will definitely **** you up." You can fill in the blanks as you like. As a staff weenie (i.e. one who works on the staff at a high level unit like a Division or higher - and often a term used by the staff weenies themselves), I don't hear a whole lot of language like that here at the 1st Marine Air Wing HQ, however. The term "brain housing group" comes from "bolt housing group" which is the group of parts that holds the bolt on an M-16.

 

As a totally different subject, we just had "Colors" here this morning. In the States, on Marine bases, the bugle call To the Colors is played in the morning as the National Ensign is raised. On US Army bases, they play Revellie. Here in Okinawa, they play the US National Anthem and follow that with the Japanese National Anthem "Kimi Ga Yo".
---