---
Tom Tista from Vosges, France - Bundles - 01-31-2011




Hi everyone !

My name is BATISTA Tommy (alias Tom Tista) and I'm from the Vosges in France.

Since I was a little boy, I was passionate of the world war 2 history and I began reenacting 4 years ago.
I make mostly American and French reenacting because they are the ones that liberate my district (to quote the most representatives that I reenact : 36th "Texas" ; 3rd "Rock of the Marne" ; 2ème DB of General LECLERC ; French Expeditionary Corps made from north africans). Please feel free to add me on FACEBOOK if you want to see some reenacting pix ( http://www.facebook.com/ttista ). Last but not least I'm interesting in 36th Engineer Combat Regiment because for me, combat engineers are too often forgotten by people but they are the ones that have permit the advance of the allies, building bridges and clearing roads.
The 36th ENGR was a "bastard" unit and was separated to serve 3rd, 36th, 45th Infantry Division and others as their needs
In this act of remembrance I decided to sponsor/support (I don't know how to say well in English) a grave from Epinal American Cemetery. I registered in this forum to look for as many informations as I can and to ask some help from the US citizens.
Nice to meet you all

Tom
---
Tom Tista from Vosges, France - Jeeper704 - 01-31-2011




Greetings from Belgium and welcome to the Forum, Tom.

 

Erwin




---
Tom Tista from Vosges, France - Walt's Daughter - 01-31-2011




Tom and I have been corresponding for the last two weeks, and I introduced him to the gang via email.

 

Tom also posted elsewhere on the forum. But I am going to include the pic he sent to me.

 

Everyone in the 36th sure appreciates your efforts!!!!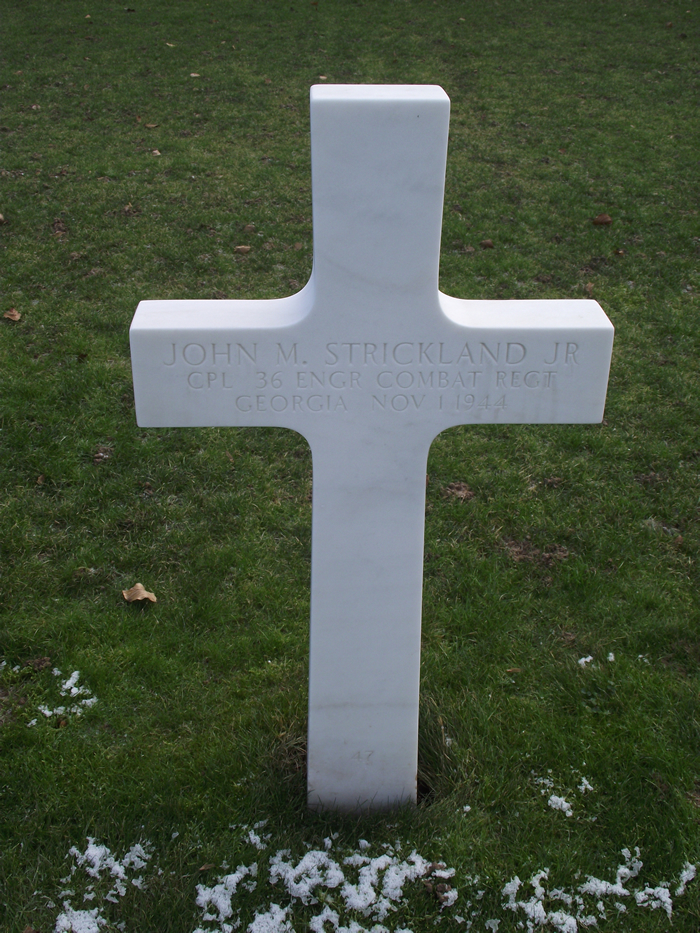 ---