---
208th Combat Engineers - AlReed'sKid - 06-28-2010




Hello, I am glad that I found this site which is dedicated to the great veterans of the Greatest Generation. I am the son of a WWII vet, his name name is Joseph Froio and he was with the 208th Combat Engineers in WWII. He's told me many great stories and even shared some photos too! I've attached a few pictures of him and his company (Company

. Today, he is 89 years old and lives not too far from me with my mom. They've been blessed to be married for the last 62 years.
Thanks,
Anthony Froio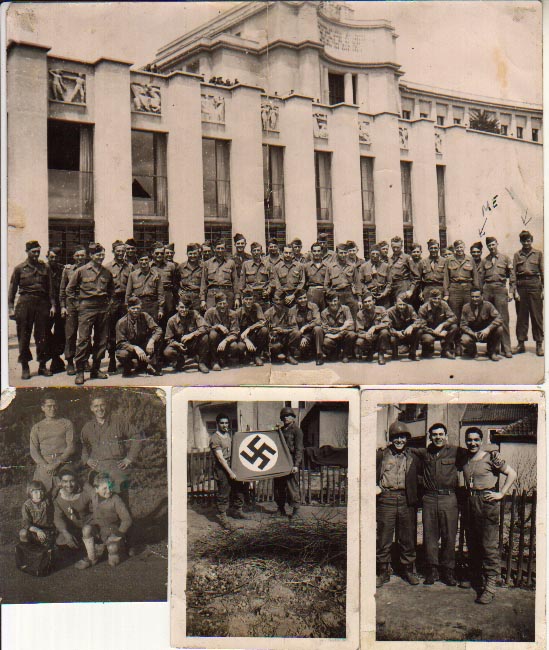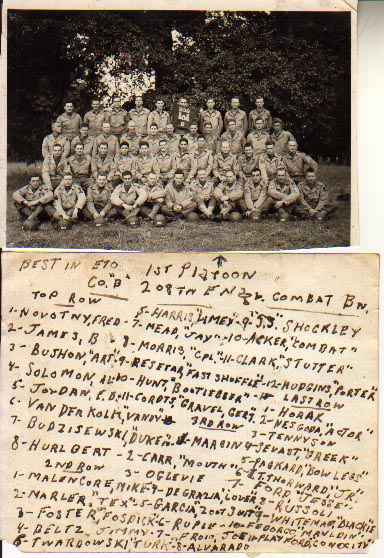 ---
208th Combat Engineers - Walt's Daughter - 06-28-2010




Well, how cool is this? So glad you joined. A big hello to your dad and your mom too. How great to be together for 62 years.

 

Thanks for posting the photos. I can't wait to see and hear more. I can place the photos on the engineer gallery too, later this week.

 

Welcome aboard.

M1




---
208th Combat Engineers - NephewOfArthur - 04-24-2014




Good morning, Anthony,

 

My Great-great uncle is Arthur (Art) Bushon, the third name listed in your photograph. This is the first photograph I've ever been able to find of him- do you possibly have more? Was your father in Art's platoon?

 

Kind regards,

 

Doug Halleaux




---
208th Combat Engineers - Walt's Daughter - 04-24-2014



I sent Anthony an email with the link to his old post, in case he doesn't see this. He hasn't been around for a while, so trying to reach him via email too.




---
208th Combat Engineers - Anthony - 04-24-2014




Hello Doug,

 

Wow this is really something! My dad and your great uncle Art were in the same platoon! I remember growing up and listening to my dad's stories (I could never get enough). I remember him telling me about your great uncle Art Bushon. My dad is now 93 years old and I am going to see him tonight. I will mention this to him and see if he has any detailed remembrances of your great uncle Art. I will also check for more photos.

 

I'll get back to you soon,

 

Tony Froio.




---
208th Combat Engineers - Walt's Daughter - 04-24-2014



All I can say is bravo. This is so cool. That's why I love this forum, for it's always been a great conduit.

---
208th Combat Engineers - NephewOfArthur - 04-24-2014




Tony,

 

That would be fantastic! I wish I had more detail myself, but all the information I have of him is from my Great-Grandmother (Art's sister), and unfortunately all she knew of his service was that he was killed in quicksand over there. I wish she were around today- I don't believe she had seen any wartime photos of him (or had seen what he looked like at all once he left home). Nonetheless, the pictures and stories mean a lot to my family, and thank you very much for sharing them. Please thank your dad for me, both for his memories and for his service!

 

Kind regards,

Doug




---
208th Combat Engineers - Anthony - 04-29-2014




Doug,

 

Thank you Doug, I will relate your thanks to my dad. I'm sorry it took so long to get back to you, but my dad definitely remembers, and has a very sad recollection of, your Uncle Art. In fact every time he tells the story he says how bad he felt for your family. Your Uncle Art died after the war had ended. The 208 Combat Engineers were assigned as occupation troops in Germany. While patrolling a river (I believe my dad said that it was the Rhine River) in a boat, the boat somehow overturned and your Uncle Art was caught beneath somehow. It may have been quicksand or some sort of drowning. My dad said that when he and the other soldiers had heard about it they were extremely saddened. After surviving a world war and then to die in a freak accident was just so ironic. My dad said that he always wanted to call Art's family and express his condolences, but he just didn't know what words he could have said.

 

My dad said that Art was a real gentleman. To quote my dad... "you always hear good things about people after they die, but with Art it was all true. Art never cussed or had anything bad to say about anyone." Those are the words that my dad used to describe your Great Uncle Art. You should be very proud. That generation is slowly passing before us but I wonder if people truly realize the sacrifices they made. Your Uncle Art never had a chance to live his life out and that is so sad. I hope what I've told you sheds some light on the life of your Uncle Art. I am sorry for your family. Isn't something, even though it's been almost 70 years since the end of that war, people's lives are still impacted by those events.

 

I'm still looking for more photos...

 

Sincerely,

Tony Froio




---
208th Combat Engineers - Walt's Daughter - 04-30-2014




Tony, that is so, so sad to learn about. I have heard similar stories about men surviving the war. only to die in freakish ways in occupied Germany. oh the irony.

 

I am glad that you were able to share how everyone felt about him though. That is heartwarming to hear.




---
208th Combat Engineers - NephewOfArthur - 04-30-2014




Hi, Tony,

 

I have to tell you, I've had more interest from the far corners of my family in Uncle Art's stories and finding your dad than I can ever remember all of them being interested in at the same time. My grandfather, in particular, had very similar things to say about Art that your dad did- that he was an incredibly congenial man who was generally well-liked by just about everyone. I'd love to hear about some of the projects your dad and Art had the chance to work on in the 208th and some of the places they had the opportunity to visit! I've read a few things here and there, and I read through the uploaded battalion journal of the 208th quite thoroughly, but there is nothing like true anecdotes to add the color to the tale that really has meaning!

 

I forwarded what your dad had to say about my Uncle Art to my family. I do not doubt that they are very, truly grateful for his kind thoughts and memories of Art, and as they get a chance to read it and reply, I'll forward those replies to you, too!

 

The pictures you have uploaded already are absolutely fantastic! Do you know if any of the men are Art (except for the picture that is already labeled?)

 

Thanks again!

 

Kind regards,

Doug




---