---
A warm welcome to Moose's buddies - Walt's Daughter - 05-05-2007




I thought it would be nice to take a few moments this morning to welcome all of Moose's buddies who have recently signed up as new members. I've noticed there were quite a few of you, so I am extending a public welcome to the whole gang!

 

Any friend of Moose's is a friend of mine. Cheers!

I really hope to meet all of you someday if I ever get to England, and that is of my goal's in life. After all, my husband is part English and some of his family are from Chard on the Avon.
---
A warm welcome to Moose's buddies - sappered - 05-08-2007




Hi All,

Thanks for the warm welcome.

I joined the forum on the recommendation of Moose and I am very pleased that I did.

I have read many interesting items on the forum and hope to add a few comments of my own very soon.

All the best from Pvt Puddles.

(There's a story behind the name which Moose or I will elaberate on at a later date, but it envolves me, water and gravity!)

(A Squad, 506th PIR, 101st Airborne, Screaming Eagles Living History Group. England)




---
A warm welcome to Moose's buddies - Walt's Daughter - 05-08-2007




At ease Private Puddles!

Nice to have you here. Can't wait to hear the STORY behind that name, but my mind is already racing with possibilities!

I think you guys rock and I'm so glad that I met Moose. Love seeing all the spectacular photos from the reenactments. Keep up the great work. You do all proud!
M
---
A warm welcome to Moose's buddies - Mailman - 05-13-2007




Hi Marion

thank you for the warm welcome and what a great web site! Moose is my squad leader and the way it's going i'am going to be a private for life as he leads me astray.

 

 

 

Mailman (Alan)




---
A warm welcome to Moose's buddies - Big Pete - 05-13-2007




Hi Marion, I'm Pete or big pete to the rest of the unit, (although I reckon they're all just small and I really normal size!) Moose is also my squad leader and a hell of a nice guy.

Im the squads Armourer (as thats what i do in real life but on Helicopters) which means Im the sap who ends up volenteering myself for cleaning all the weapons after a battle

Just got back from a thoroughly wet Sunday at Tilford rural Life Centre where they were holding a 1940's village weekend in which we were involved. I'm sure Sgt Mose will festoon you with photos just as soon as he can.

 

Once again greetings to you and yours

 

Big Pete.

 

P.S.

Im only 6'5" and 200 lbs




---
A warm welcome to Moose's buddies - Walt's Daughter - 05-13-2007




Hi Mailman and Big Pete! Nice meeting you chaps!

 

Well Big Pete, everyone is gigantic to me. I'm only 5'0 tall.

Sounds like you have a great squad leader. Moose has been a fine addition to our VI Corps family and I honestly feel as though I've known him for much longer than I have. I can only imagine all the fun you have during the reenactments and after at the local pubs!

Moose sent me one photo of he and the missus, toasting to me here in the states. Looks like he was having a tad of fun.

Okay gentlemen it's Sunday, you may astray...

Now Moose what's this I hear about you being a bad influence??
---
A warm welcome to Moose's buddies - Walt's Daughter - 05-14-2007




Awww, you guys REALLY made a lady's day. I have been sitting here doing payroll, paying bills, placing orders, etc., all morning and then this arrives and starts my afternoon off just right. I love it so much that I am going to print it out and place it on my office wall. That way I get to see your smiling faces every day!

 

Thanks Moose! You're the best!

 

Hi Lovely Lady,

Some of the guys saying 'hello' and thanking you for your help.

Left to right.... ' Magic', 'Book', 'Knowledge', ' Scotty', ' Junior', ' Mailman', 'Puddles'.

 

Some great photos to come.... 'Meeting the Veterans'.

Moose.

 

Hubby wants to know what brand of beer you mates are drinking?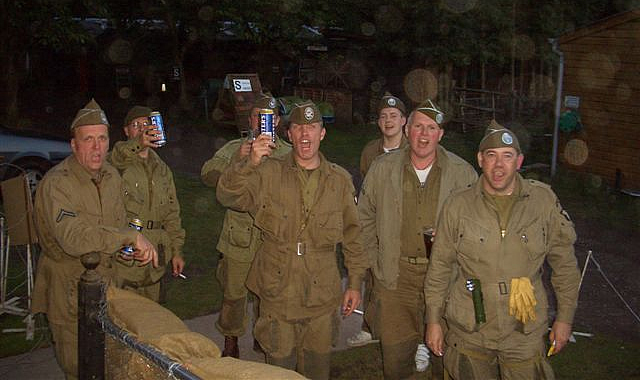 ---
A warm welcome to Moose's buddies - radar - 05-14-2007




Hi Marion,

My mates are drinking Australian falling down water called Fosters, probably supplied by Moose.

 

Let me introduce myself, I'm Captain Dave and its a pleasure to be on this forum.

 

I've been keeping a close eye on Moose and his posts, I'm proud to have him as a friend.

 

All the guys in the group are special to me, they all have thier own ways. They all work hard and make the group stand out at events. Their knowledge of the WW2 US army is second to none, they are always ready to educate and answer questions about what they stand for, espiecially about the men they hold close to thier hearts, the veterans.

 

Myself, I work in a motorcycle shop with my blind brother Ian, we both compete in off road motorcycle events, Ian riding shot gun in a sidecar outfit myself on a 250cc enduro bike.

 

Hobbies other than living history and motorcycling include shooting historic firearms and running about in my WW2 jeep.

 

My, very understanding, wife is Andrea, she is from the Czech Republic, we both enjoy visiting her folks and I espiecially enjoy exploring the Czech countryside and researching Czech history.

 

Over the years I have been on many forums, I think keeping the spirit of any WW2 veteran and their sacrifices is paramount, this forum seems to be a little more easy on the eye than some others I could mention.

 

My father was in Europe right at the end of the war, he met many US soldiers and he is the reason I have an interest in this subject. One day I'll research him.

 

Many thanks to the mod's who have a thankless task looking after this well presnted forum and I'll catch y'all later.

 

Dave.




---
A warm welcome to Moose's buddies - Walt's Daughter - 05-14-2007




That's what my hubby thought it looked like, Fosters. They make a pretty distinct can o' beer! We've had some ourselves here in the states.

 

Since we are on the subject of beer and ale... What are some of your squad's fave beer and ales in England? Mind you we mean to taste and savor a few while visiting merry ol' England in the future. We expect a complete tour and will hold up our end of deal too.


Guess you guys will have to find me a uniform along the way somewhere. Oh hell, I'll bring my Ike jacket. Guess we will have to find me a WAC skirt or something!

Wouldn't mind going home with an RAF uniform to add to my collection. Always pictured myself with a headset and a long handle over the boards calling in the plane positions...
The motorcycle shop sounds like a blast. We used to ride many years ago. Gave it up when started a precision grinding shop. Couldn't afford to get hurt. You know how that goes. Good luck.
Wow, how interesting having a wife from the Czech Republic. Talk about history!
Radar, now that I'm done blabbing (had a few tonight myself), welcome to the boards. I look forward to getting to know all of ya. Here's to "my boys"!

---
A warm welcome to Moose's buddies - moose - 05-15-2007



Lee, thats mortals beer on the left, and Moose beer on the right..
Moose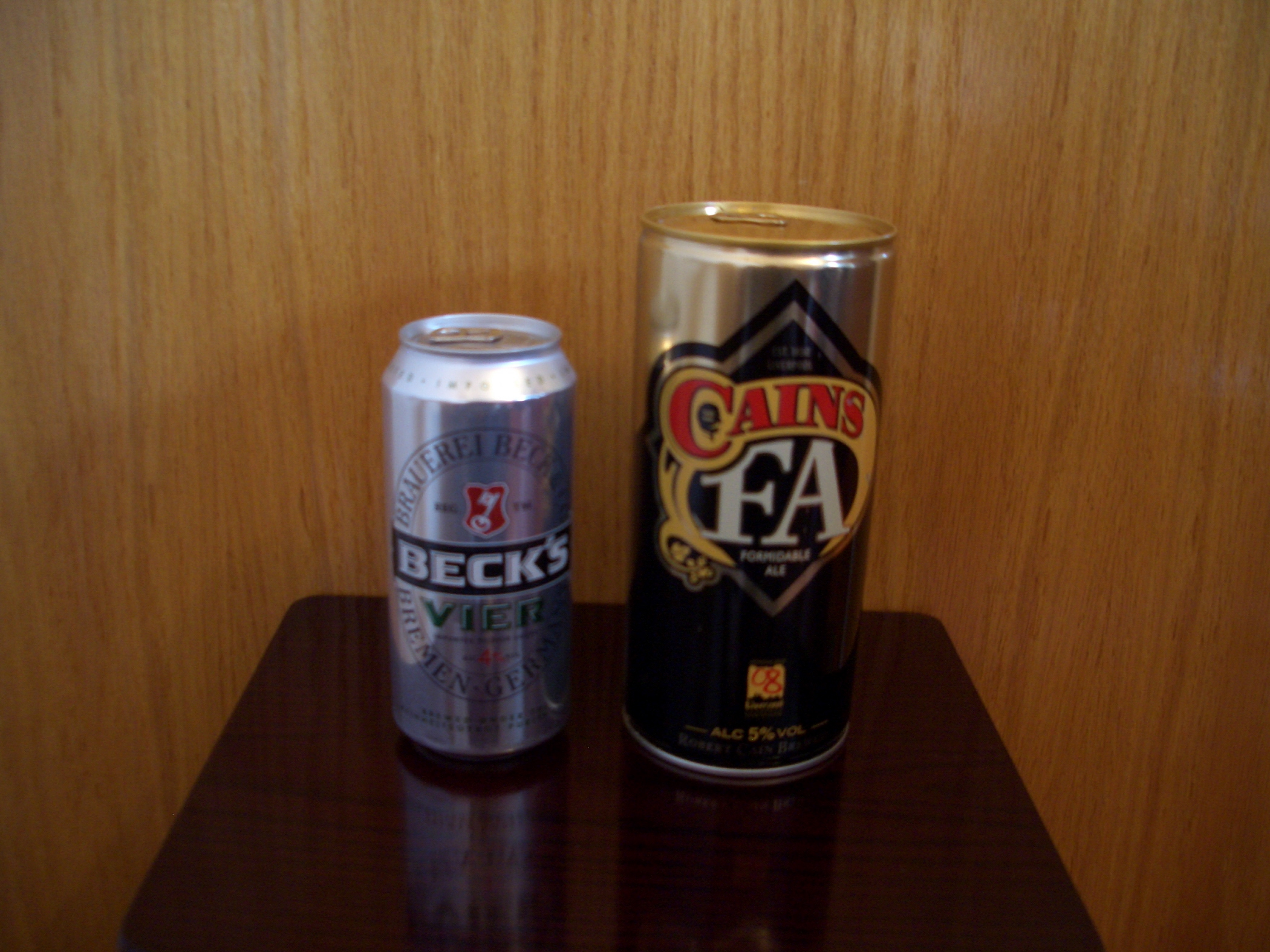 ---