---
Marion's Collection - Walt's Daughter - 11-26-2006




Yo Colonel. Congrats. A well-deserved promotion too I must admit. Not only do you submit jokes and make us laugh, but you contribute some really wonderful stories regarding the war and your experiences. I love it.

 

I need more people to do this. But I guess I should be happy that we have people like you and Joe and Rocky and Papa Art, and so many others that have taken the time to share their words.

 

I know there are more out there that maybe are just afraid of the NEW and maybe don't feel comfortable, but I wish they would take a moment to try. Hey we don't mind mistakes. That's how we all learn. Heck, I had to learn to do all this stuff too a few years ago. I had been on the net for a long, long time before I tried my hand at FORUMS. It's a bit scary at first I must admit, and being a :gang: is always a bit nerve-wrecking.

 

Back to doing a bit of homework... I agree that if you do a bit of study and do it right the first time, it saves all of us a bit of aggravation. I have really tried to make it easy on the new guy with all the built in HELP sections. Also if anyone has a question about how the forum works, please post it in that section also. We have three moderators including myself that help out, and lots of helpful members who could find their way around in the dark.

Sometimes people ask what they can do to help me, well one is to actually read the sections that I've pointed out. It really helps me if I don't have to repeat the same thing 20 times.


Thanks in advance.

Sorry for blabbing... Back to collectables. Sometimes I don't know when to stop...

---
Marion's Collection - Daan - 05-31-2007




That's a really nice collection you got there Marion!

Do you keep those in some sort of display case? It's always interesting to see the items that other people collected!
Keep up the good work

---
Marion's Collection - Walt's Daughter - 10-07-2007




Finally remembered to upload my IKE JACKET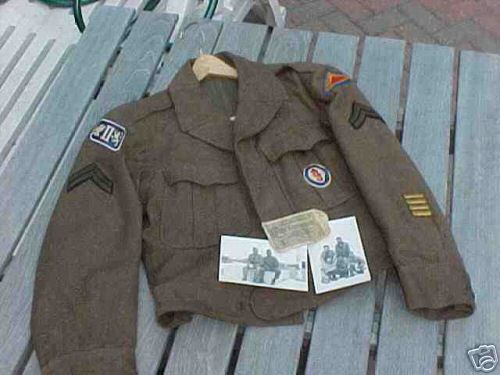 ---
Marion's Collection - Walt's Daughter - 09-05-2008




Marion's newest acquisition from Ebay! Just won this last night.

 

Here's the description on Ebay

 

Who else but Rand McNally could come up with a "War Map of Europe" in 1939? This is not a map to be used for driving...unless you are Panzer Grenadiers and Nazi Armored Divisions preparing to assault The Maginot Line in the Spring of 1940! This very interesting full color map is a wealth of information about the military strengths and/or weaknesses of the major players in WWII in the very early days of the war (Guess who was the Weakest?). There are lists which document the number of Submarines, Army, & Air Power each nation had at the time, both in standing and reserve forces. Another drawing gives you a "slice" of The Maginot Line that names every section by function. Look at the picture that shows The Western Front....The Maginot Line and The Siegfried line stand opposite each other like the Offensive & Defensive lines of 2 Football teams in 1939! When unfolded, the backside is a Full Color 26" X 20" map of Europe. A unique addition to any WWII collection!

 

---------

 

Funny thing is, I was bidding for an item which belonged to a friend, and didn't even know it. Item bought from non other than Dogdaddy!

Images from Ebay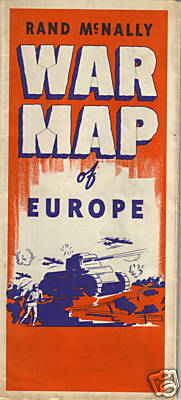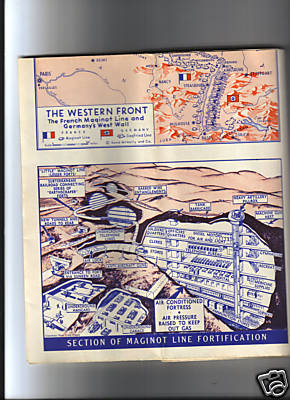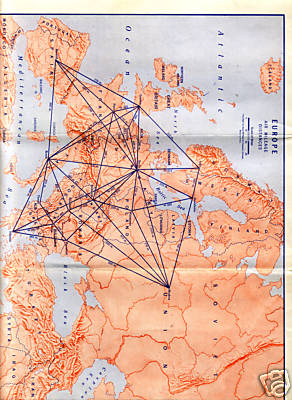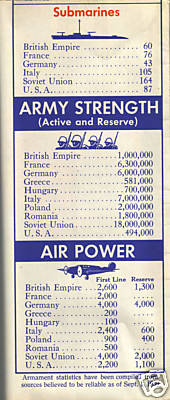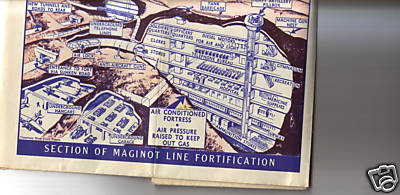 ---
Marion's Collection - texas38 - 09-05-2008




Congratulations, Marion. That's some haul. Amazing coincidence that it's from Dogdaddy!

 

Marilyn




---
Marion's Collection - Walkonis 36th - 11-14-2008



Dad's CIB
Hi Marion,
did every combat engineer who experienced combat earn one of these? during or retroactive of the war?
-Frank
---
Marion's Collection - Walt's Daughter - 11-25-2008




No they did not, and it's a point of contention which is still brewing today. Please see this ongoing post on our forum, for more detail:

 

http://www.6thcorpscombatengineers.com/eng...?showtopic=3446

 




---
Marion's Collection - Walt's Daughter - 11-25-2008




Thanks to my dear friend, Harold Whiting, 157th Combat Engineer, who was able to obtain Ken Burns' autograph for me. He and Ken signed a copy of the book, The War.

 

Thank you Harold! All credit goes to him, for he was the one who emailed me and said, Ken is coming to town, and I will get his autograph for you. You are the best. I sure do appreciate everything you've done for me.

 

Harold didn't want to sign the book, because he said he suffers from "chicken scratch".

I told him I don't care if you have to sign with your toes, but I want your autograph too!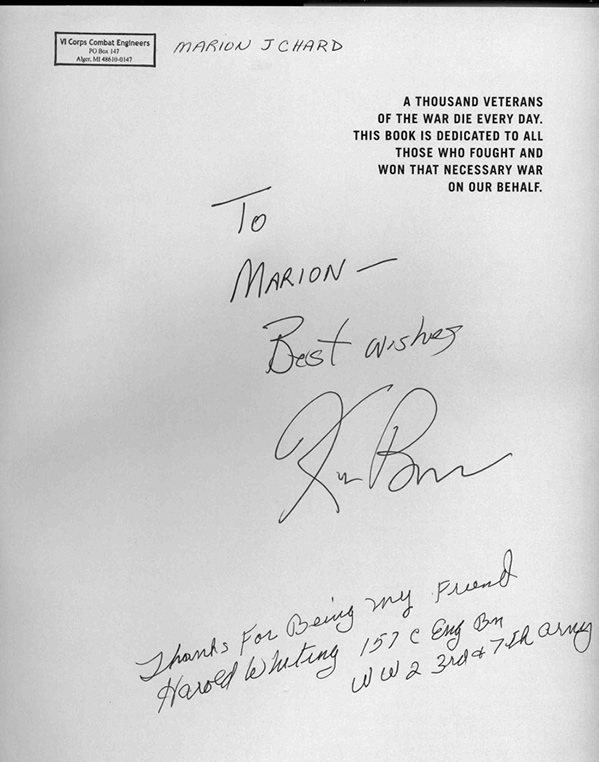 ---
Marion's Collection - Walt's Daughter - 08-26-2010




Dogdaddy, I apologize for not getting this up here sooner. It's not like I haven't had anything else to do.
I received a wonderful surprise package for my birthday from Dogdaddy, and within it were the following items, which belonged to a
PFC Ralph D. Bianco
I have scanned them for everyone and am happy to share this with all.
Dogdaddy, thanks again for the thoughtful present. You are such a good friend, and never cease to surprise me. Will always treasure this.
Now I am going to start digging to see if I can find out any info on Ralph, the WWII engineer.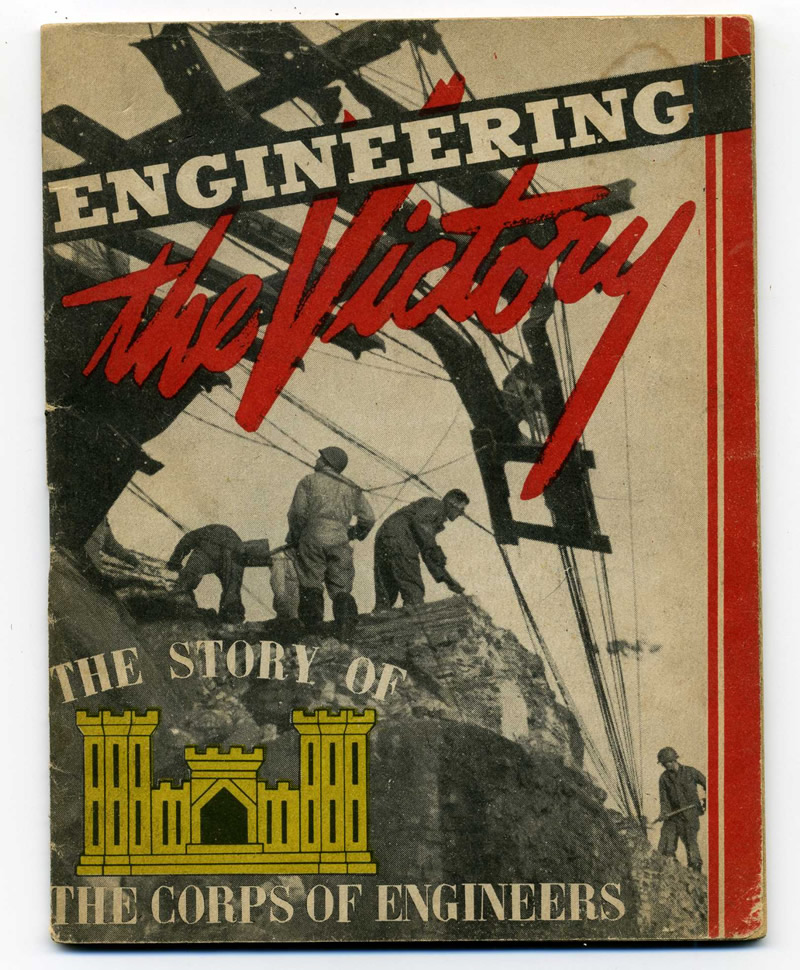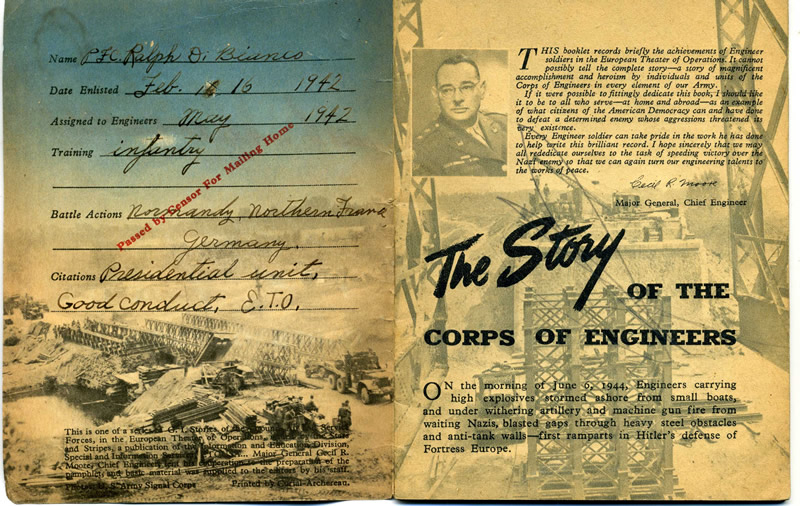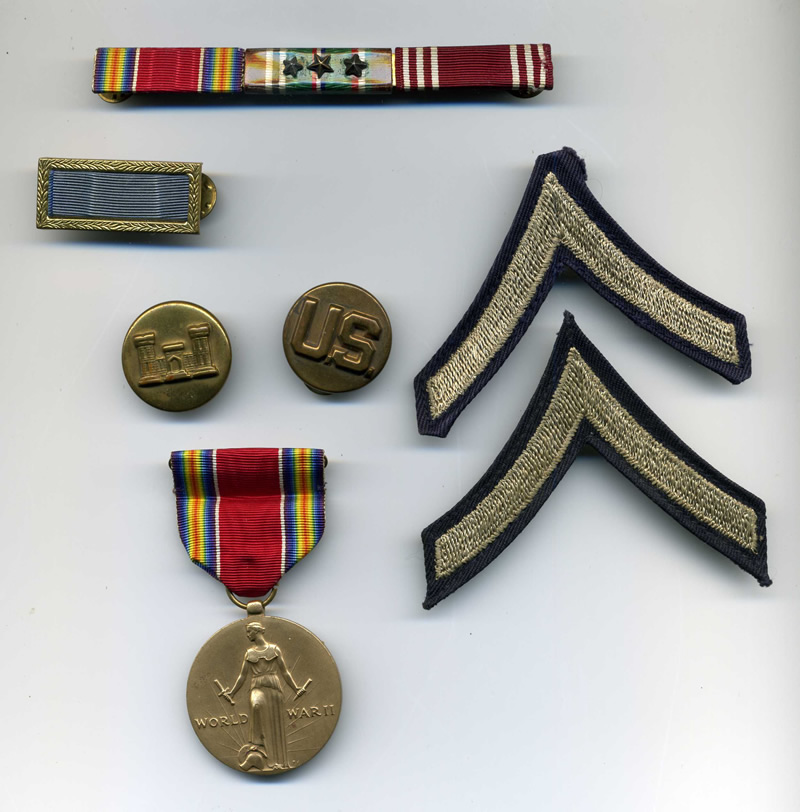 ---
Marion's Collection - Walt's Daughter - 08-26-2010




I went to NARA and did a search through their enlistment records. This is only a possibility. I narrowed it down, for a few had other middle initials, and one or more couldn't be it due to enlistment dates. So maybe this one??

 

 

A few minutes later...

 

Just realized it couldn't be this one either, for the enlistment date is wrong. He has his enlistment date as Feb 42!




---