On September 17, 1944 a Waco glider carrying 5 men of the 101st Airborne Signal Company and a British Corporal of the Royal Signals crashed at Mariekerke (near Sint-Amands & Bornem), Belgium.
Unfortunately all men and the Glider Pilot were killed in this crash.
This glider was on its way to a landing zone north of Eindhoven, near Son, Holland.
Due to a mid-air collision with another glider which caused the trailer (filled with radio equipment and telephone wire) to break loose and shift forward, the Waco was out of control and went down. It hit trees on the edge of a field before smashing into the ground.
Two men - the Glider Pilot (437th TC Group - 83rd TC Squadron) and the British Corporal - had been thrown out of the glider before it crashed and were found on a nearby field. The Corporal was unconscious but showed signs of life and was taken by a British jeep to a nearby hospital (the area was already liberated by British Forces early September).
He died shortly after arriving at that the hospital.
Their names:
F/O Samuel C Welch (Glider Pilot)
Cpl Frederick A Sellers (British Royal Signals)
Pvt Thomas F Vella (101st Abn Sig Co - 101st AB Division)
Pvt Joseph Dottavanio (101st Abn Sig Co - 101st AB Division)
Pvt Gustave O Gerwig (101st Abn Sig Co - 101st AB Division)
Pvt Michael Jugan (101st Abn Sig Co - 101st AB Division)
Pvt Stanley M Zajelka (101st Abn Sig Co - 101st AB Division)
The men were buried at the local cemetery.
After the war, the Americans were re-buried at the American Military Cemetery of Neuville-en-Condroz, near Liège. The Englishman remained at the local cemetery of Sint-Amands.
In 1994 - September 17 - a monument was inaugurated in the presence of the sister of one of the soldiers. Every year, around the 17th, there is a small commemoration.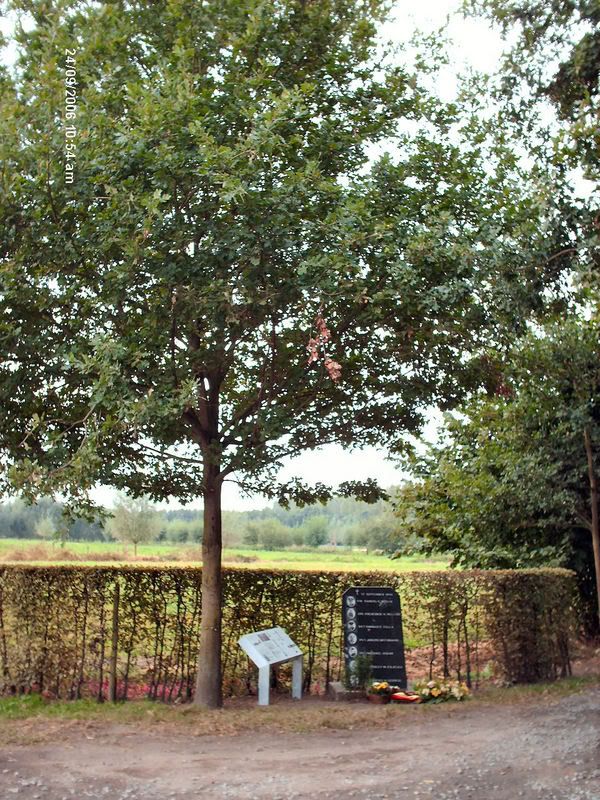 The helmets were just for photographic purposes.
The left helmet came from the wreck, it shows faintly the insignia of the 101st Abn Sig Co.
Erwin